Google Voice is one of the most widely used VoIP (Voice Over IP) services. This is mostly because the service is free unless you want to migrate your existing cell phone number to the service. The service is free if you sign up for a unique phone number supplied by Google, and you may forward any calls or messages to this number to your mobile phone. Unfortunately, Google Voice only sometimes works properly. This might include not receiving new call alerts, not receiving any new calls or messages, or needing help accessing your account. This post will teach you the seven most typical fixes for when Google Voice is not working.
1. Log Into Correct Google Account
There might be various reasons why you need help logging into your Google Voice account to access your messages. The first thing you need to do is check sure you're signed into the right Google account. This should be the account you used to set up Google Voice in the first place. Select your profile image from the Google search home page and ensure you're signed into that Google account. If you aren't, choose Sign out and sign in with the right Google account.
2. Check Internet Connection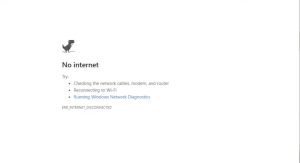 This should go without saying, but if you can't connect to the internet, you can't use Google Voice. You may notice an evident error message in your browser indicating that you are not connected to the internet. Alternatively, you may receive an error message in Google Voice indicating that a connection is no longer accessible. If you've established that your internet connection is good, or if you've fixed your connection, but Google Voice is still not working, you're ready to proceed to the following troubleshooting steps.
3. Install Latest Version Of Google Voice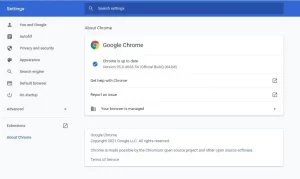 You don't have to worry about the version of Google Voice if you access it through your browser. You should, however, make certain you are running the most recent version of Google Chrome, Edge, or Firefox. Almost every browser allows you to access and update the browser version via the About page. Usually, all you have to do is access this website, and the browser will update automatically. If you're using Google Voice on a mobile device, make sure your app is up to date by visiting Google Play or the Apple App Store.
4. Ensure You've Properly Set Up Google Voice
You may acquire a free phone number with Google Voice and then forward incoming calls to your smartphone. However, a couple of things may need to be corrected if you've done this once and then forgotten about it.
1 – You bought a new phone and set up Google Voice without forwarding calls to the new number.
2 – You changed the phone number on your existing phone but still need to update Google Voice.
3 – Your Google Voice account has been deactivated or terminated.
4 – You've created a second Google Voice account and tried to forward calls from that second number to the same phone.
Check your Google Voice registered phone number, and then ensure that the device you've registered is the mobile device you now own. This is done by clicking the gear Settings symbol in the top right corner of Google Voice. Then, from the left menu, select account.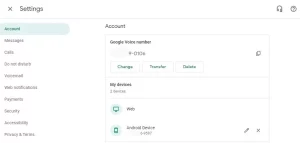 Your Google Voice phone number will be listed under the Google Voice number column. In addition, your registered mobile device will be shown in the My devices area.
Note: If you're using Voice for Google Workspace for business communications with many users, the registered administrator must appropriately issue each user a "license" to use the Google Voice account and provide them with a phone number. If you are a Workspace member, contact the Admin to ensure your Google Voice account has been activated and a valid phone number has been issued.
5. Check Do Not Disturb Settings
You may still need to receive calls if you successfully configured Google Voice to redirect calls to your phone or web browser. Several factors can cause this. For example, do Not Disturb and Call Answering settings are two settings.
Choose Do not disturb from the left navigation menu in the Google Voice settings menu. Make that the Do not disturb toggle on the right is not turned on.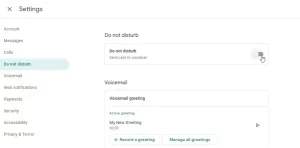 If you enable this setting, you will not get any incoming call alerts from Google Voice.
6. Check Call Answering Settings
The Call Answering settings are another feature that might cause Google Voice not working with incoming calls. This may be found in the Google Voice Settings menu. From the left menu pane, select Calls.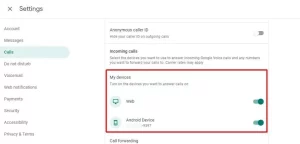 Search for the area of the Incoming call on the right, followed by the My devices section. Ensure the toggle switches to the right of each device you wish to accept Google Voice calls are turned on.
7. Have You Used Google Voice Lately?
According to several customer accounts, their Google Voice service stopped working after they failed to access Google Voice and use it directly for an extended time. First, log back into your Google Voice account and check your recent messages. This step alone may revive your account and resolve difficulties with not receiving notifications. The more significant problem is that your access to Google Voice has been completely terminated. This can occur for a variety of reasons.
1 – You last called, texted, or even listened to your Google Voice voicemails in more than six months.
2 – You transferred your previous mobile phone number to Google Voice but failed not to pay the $20 cost for this choice.
In either of these circumstances, you will lose not just access to the Google Voice service but also your Google Voice phone number. But don't panic; you still have 45 days to contact Google Support and regain your Google Voice phone number.