Do you have a PDF that requires a hyperlink? Here's how to create a hyperlink in a PDF document. PDF files are very prevalent these days, and they are very adaptable, as they can be viewed and altered on a variety of devices. However, it is occasionally important to enrich a PDF file by adding an internal or external hyperlink. So, here's how to insert or generate a hyperlink in a PDF file or Create A Hyperlink to a PDF File.
How to Add a Hyperlink to a PDF Document
You may make PDF material clickable by adding hyperlinks. Thanks to linked resources, audiences can read more content that isn't presented in one document. Adding hyperlinks to PDF documents is frequently required.
People connect to PDFs for many reasons. When people think about adding extra content to PDFs, adding hyperlinks to them is a typical request.
As a result, let's start with adding hyperlinks to PDF files.
1. Add Hyperlink to a PDF using MS Word.
Hyperlinks in PDF can be readily produced with the current version of Word. Follow the steps below.
1. Turn on your computer & then open Microsoft Word. Drag and drop the PDF you want to link to into the document.
2. Select the phrase or sentence to which you want to link.
3. Select "Insert." Choose "Links." Select "Hyperlink."
4. Next, type in the URL you'd like to utilize as a hyperlink. After that, save and export the document as a PDF.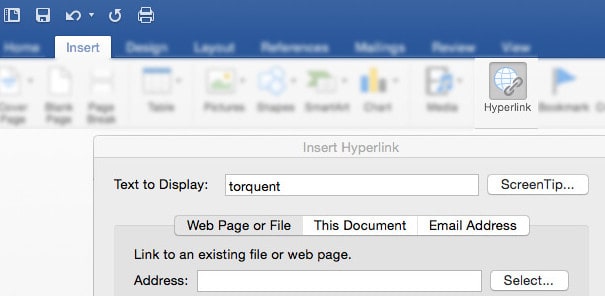 2. Create a Hyperlink to a PDF using Google Docs.
Google Docs is a totlly free online document editor. It is directly accessible from your web browser.
The procedures to easily hyperlink a PDF document are outlined below.
1. Once you've opened the Word document, you may begin composing the content of your PDF file in Google Docs.
2. Next, select the Word or phrase you'd like to link.
3. Select "Insert" from the drop-down menu. You can now include a hyperlink in the URL you need to include. Once you've done that, click "OK."
4. Finally, convert the document to PDF. Select "File." Choose "PDF Document" from the "Download as" menu. This will convert the content back to PDF format.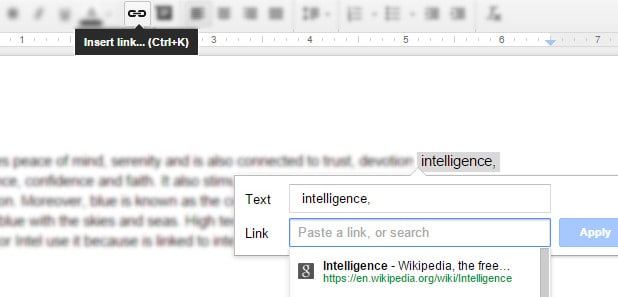 3. Add Hyperlink to a PDF using Adobe Acrobat.
The Adobe Acrobat series makes it simple to edit and manage PDF files. You can alter every component of the PDF with the application.
After installing Adobe Acrobat on your Windows or Mac computer, follow these instructions to insert hyperlinks into a PDF file.
1. Open the PDF using Adobe Acrobat DC.
2. Select Tools. Select Edit PDF. Choose Link. After that, select "Add/Edit Web Link." Drag the link to the location you want it to go.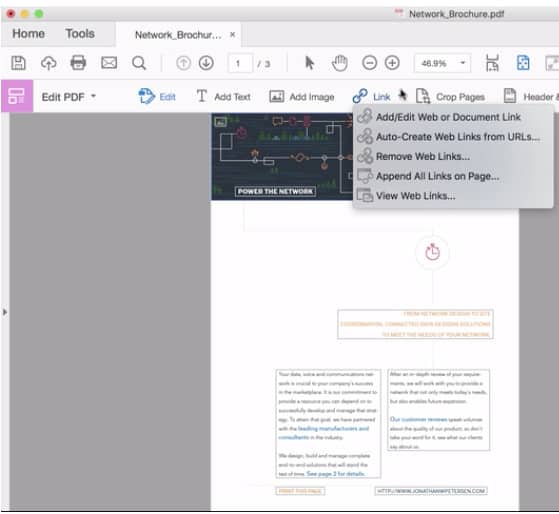 3. Save your work. The PDF will include a hyperlink.
Wondershare's PDFelement is a popular PDF editor. Wondershare PDFelement for Windows and Mac allows users to generate simple, edit, convert and sign PDF documents.
Here, Several documents can be processed at the same time. It also includes a strong OCR engine, improving text recognition rates.
1. Wondershare's PDFelement is a desktop program. This program can be downloaded and installed directly from the company's website.
2. After the software has been installed, run it. Then, click "Open File" button to open the PDF document on the site.
Furthermore, Wondershare PDFelement allows you to drag & drop files.
3. Select "Edit" and then "Link" to create a hyperlink to the text in your PDF. You can change the look & behavior of the links on this page.
To finish the process, click "Set Link" after adding the Hyperlink to the PDF file.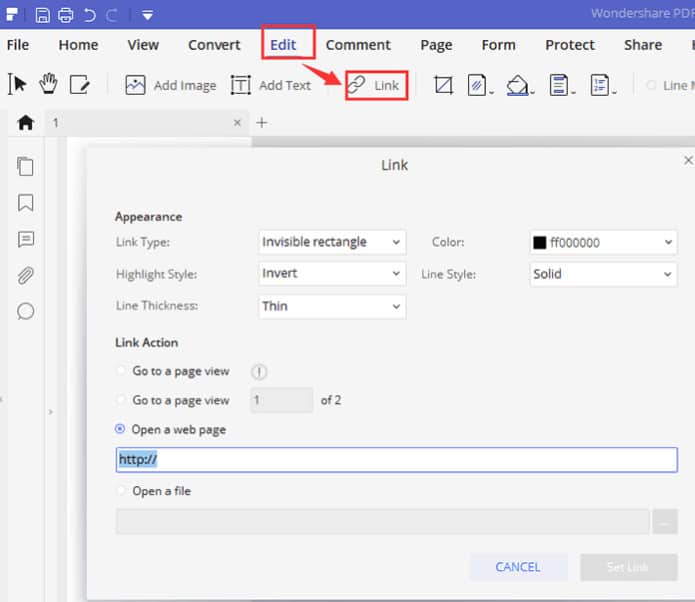 4. After adding a hyperlink to the PDF, select "File" > "Save" to save the document directly.
Alternatively, you can change any element in the PDF if you want to edit it.
5. Create a Hyperlink to a PDF using Cisdem.
Cisdem's PDF Converter does a fantastic job accurately and swiftly converting PDFs.
This PDF OCR Software for Mac can convert native and scanned PDFs into ten different formats.
It can also convert a variety of document types to editable PDF files. Batch conversion is possible using this application. It also supports over 200 different languages.
You can use this tool to convert PDFs to Word and add hyperlinks. Even PDF files can be re-imported into the application to be compressed, passwords added, etc.
1. Cisdem PDF Converter OCR must be installed on your Mac.
2. Drag and drop the PDF files into Cisdem's Converter window.
3. Choose a page range. Then choose Docx. To convert scanned PDFs, you must activate OCR.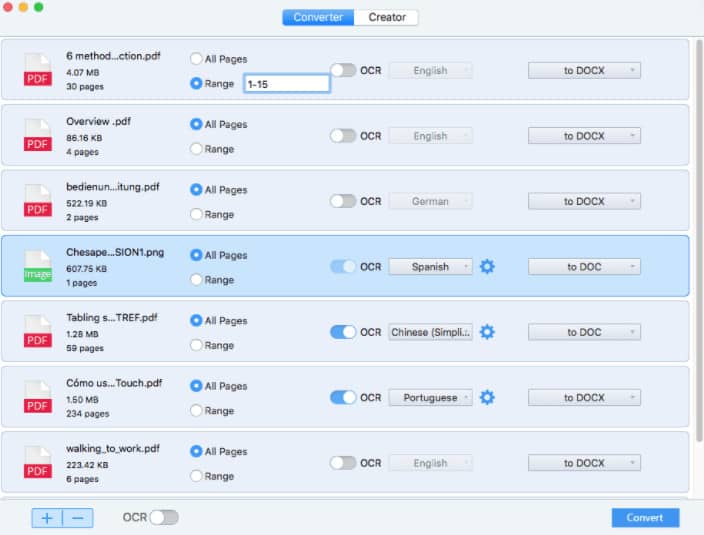 4. To save the PDF as a Word document, click Convert.
As needed, add hyperlinks or make changes to the document. Finally, save the file as a PDF.
6. Add Hyperlink to a PDF using Sejda.
Users can combine, convert, split, encrypt, and perform other activities on PDF files with Sejda is a simple, enjoyable, and productive manner.
You may also convert PDF files to Word, Excel, and pictures. Merging multiple PDF files is also doable. It also allows you to batch convert files.
To do so, follow these steps:
1. Go to Sejda's website. Choose "All Tools." Then select "Edit."

2. Select "Upload PDF file" from the drop-down menu—select files from your hard drive. You can utilize Dropbox or Google Drive to upload PDF files.
3. Click the "Link" button to select a location on the website to link. In the text field, type the URL link.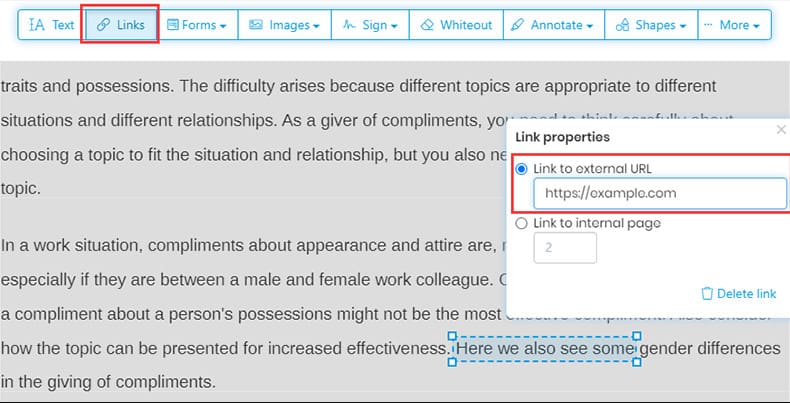 4. Click the "Apply changes" button to download the PDF file. Meanwhile, you can modify, print, and merge the PDF on this page.
7. Insert Hyperlink to a PDF using PDF Converter PRO.
If you need to insert hyperlinks, consider PDF Converter PRO for Windows PDF to Word conversion.
It can convert several document kinds to PDF. It can also convert PDF files to Word documents.
Follow the instructions below:
1. Download and install Icecream PDF Converter PRO for Windows.
2. So, Drag and drop PDF files into the From PDF interface to convert them.
3. Choose Doc as the export type.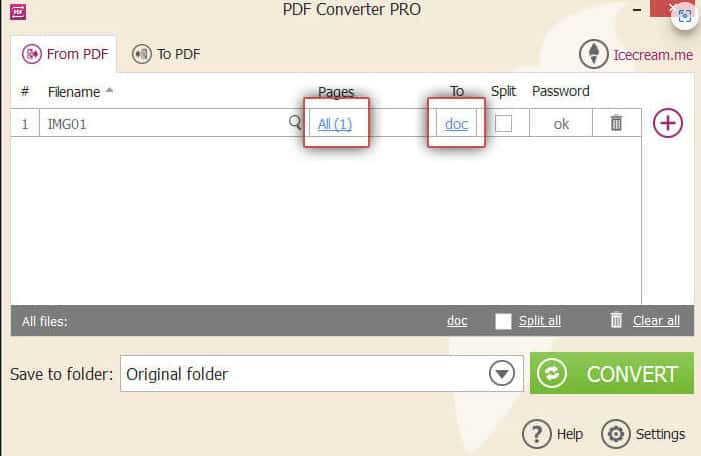 4. Click Convert to save the PDF as Word first.
5. Open the Word document and make any necessary changes or additions.
Then choose File. Save as PDF or export.
8. Insert Hyperlink to a PDF using PDFescape.
PDFescape allows you to read and generate PDF forms. It's a PDF reader that you may use online. PDFescape allows you to edit PDF documents and forms online.
Internet Explorer, Firefox, Safari, Chrome, and other popular browsers are supported.
Take the following steps:
1. To upload your PDF file, click "Upload PDF to PDFescape." You can copy and paste the PDF file's URL link from the internet.
2. After that, pick the "Link" icon and drag a box over the text to create a hyperlink. Copy and paste the link you want to include. Then press "OK."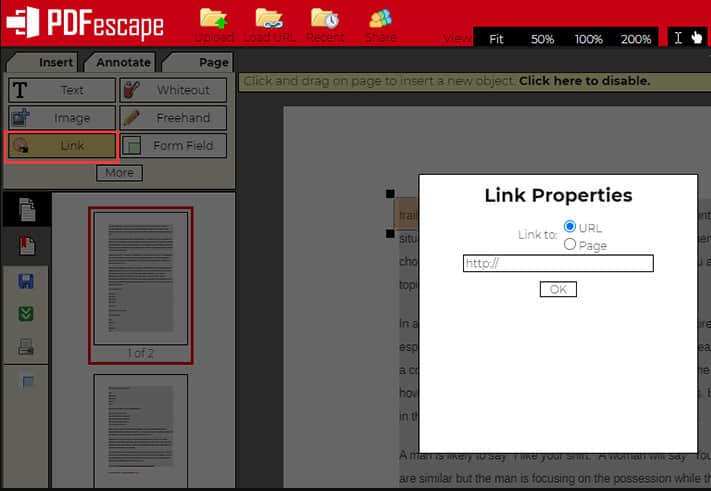 3. Select "Save and Download" from the side toolbar. After the PDF is saved and downloaded, your computer will download the PDF with the URL.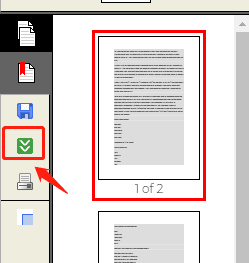 Also Check :
Hyperlink to a PDF: Final Words
This detailed tutorial will help you how to add a hyperlink to a PDF document. There are numerous ways to include a hyperlink in a PDF document. So choose the one you believe will be the most straightforward for you.