These days, high-end software is required to remove audio from a video. However, you don't need software to remove an audio track from a video. Many websites for audio editing on the web these days can remove sound from video without video editing software. So, if you're looking for ways to remove sound from a particular video file, you've come to the right place. In this article, we'll list some of the best websites to help you remove sound from any video. These are tools for editing audio on the web that doesn't need any software installed. You can even use these websites on your phone. Open your web browser and go to one of those sites. Of course, you have to upload your video to these websites and get a video without sound.
Best 5 Sites To Remove Audio From Video
So, let's get right to the best ways to remove audio from a video online without wasting time.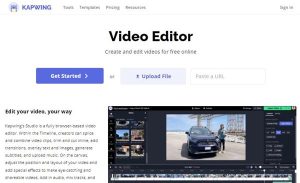 Kapwing Video Editor is a free video editor that you can use right now. It works in your web browser. The best thing about Kapwing Video Editor is that it has a video editor based on a timeline, usually only found in high-end video editing suites. You can easily edit your videos, add audio, mix tracks, and do other things with Kapwing Video Editor. You can also cut out audio from your videos with Kapwing Video Editor. The video editor is always free to use and has no watermark. You must sign up for an account to use the Kapwing Video Editor for free.
Ezgif is a website that offers different image and video editing tools. For example, Ezgif has tools to convert image files, edit videos, and do other things. There is also a tool on the site to mute videos. The mute video tool is free and lets you remove audio tracks from a video file. To use Ezgif, you must open this website, upload your video file, and click the "Mute Video" button. The tool will then make a new video with no sound.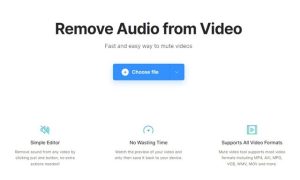 Clideo is a website that offers many tools for video editing. It is a browser-based video editor that can remove sound from any video. Clideo is great because it works with almost all the most popular video file formats, such as MP4, AVI, MPG, VOB, WMV, MOV, and more. To mute a video, you must upload it, wait a few seconds, and then save the results. Clideo is easy to use and has a clean interface compared to the other sites on the list.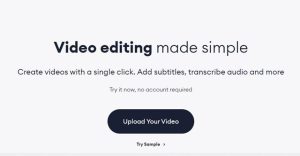 Veed.io is slightly more advanced than the others listed in the article. It's a web-based video editor lets you remove audio tracks from any video with just a few clicks. The cool thing about Veed.io is that you can mute the whole video or just a part of it. Aside from that, Veed.io is free to use and doesn't require you to make an account. After taking out the original audio with the browser-based editor, you can add your audio files to your videos.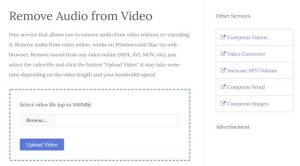 AudioRemover is the best choice if you want a simple video editing tool for Windows that works in your browser. It is a browser-based video editor that lets you remove sounds from any video. Users can remove audio from a video without re-encoding it using the free service. Windows and Mac computers can use the web-based editor through their web browsers. Also, users can get to the website and use it from their mobile devices. AudioRemover works with MP4, AVI, MOV, and other popular file formats.
Conclusion:
Removing audio tracks from a video is easy, especially if you are using the Windows operating system. Tell us in the box below about other sites like this. This article was helpful! Please tell your friends about it too.