Since it came out, WhatsApp has been the most popular messaging app on many different platforms. This is because the app was one of the first to let you talk to anyone over the internet and share media with them as long as you knew their phone number. But we still need help with the app: it only works well on some devices. Over the years, users could only use WhatsApp on one smartphone at a time. Even though the service had clients for both Android and iPhone, there was no true way to copy your WhatsApp messages and other data between the two operating systems. This is no longer the case since WhatsApp has made it possible to transfer messages and other content between Android and iPhone.
Is It Possible To Transfer WhatsApp Messages Between iPhone And Android?
Yes, WhatsApp announced recently that you could copy your entire WhatsApp history, including conversations, media, and other data, between your iPhone and Android. This is a welcome change to the app since there was no official way to transfer your WhatsApp conversations between the two operating systems. With this new feature, you won't lose your important messages, pictures, and other media when you switch from an iPhone to an Android device. The company, which Facebook owns, says that the feature will work with iPhones and Samsung Galaxy phones and be available for other Android devices. However, users who have signed up for WhatsApp's beta program on iPhone are the only ones who can use it. This means you can still transfer your chat history from iPhone to Android, even if you already have a compatible Android device.
Requirements
Before you can start moving your WhatsApp chats from an iPhone to an Android device, you need to ensure you have the following things.
An iPhone is running the latest stable version of the iPhone. This is the device where you use WhatsApp most often but want to switch.

The device you want to transfer your old WhatsApp chats to is an Android smartphone running the latest version of Android. Since the feature was announced during Samsung's launch event for its new foldable, you may only be able to get the transfer done in the Z Fold 3 and Z Flip 3 devices. However, other Galaxy smartphones will be the next to be able to use WhatsApp's new transfer tool. Soon, WhatsApp will be able to transfer chats between any iPhone or Android device.

The latest version of the WhatsApp app is installed on both iPhone and Android devices from the App Store and Play Store, respectively.

You still need to set up the WhatsApp app on Android, which means you still need to sign in with your phone number. In addition, you may only be able to import your WhatsApp chats from an iPhone to an Android, setting up WhatsApp for the first time on Android, but this still needs to be confirmed.

A Lightning to USB-C cable lets you physically connect your iPhone and Android. This is important because WhatsApp still needs to have a way to transfer chats between the two platforms wirelessly.
How To Easily Transfer WhatsApp Messages From iPhone To Android?
Once you've done everything you need to do to transfer your WhatsApp history from iPhone to Android, connect your iPhone to the Android device you want to transfer WhatsApp chats to using a Lightning to USB-C cable (the modern cable iPhones now ship with). Officially, you can move your chats from iPhone to Android, but only if the two devices are connected. Currently, there is only one way to transfer this data via cable or the internet. So now you can start the real process of moving your iPhone WhatsApp chats to an Android phone.
1 – Open the WhatsApp app on your iPhone and tap the Settings tab in the bottom right corner of the screen.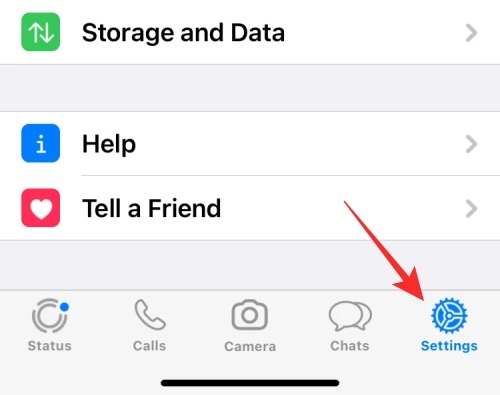 2 – Go to Settings and select Chats.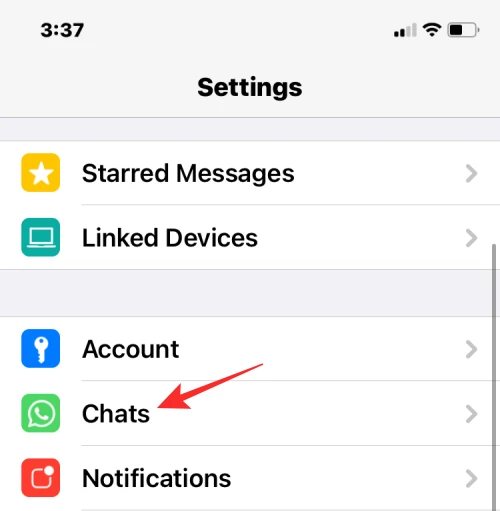 3 – On this screen, tap Move chats to Android in the lower bottom corner.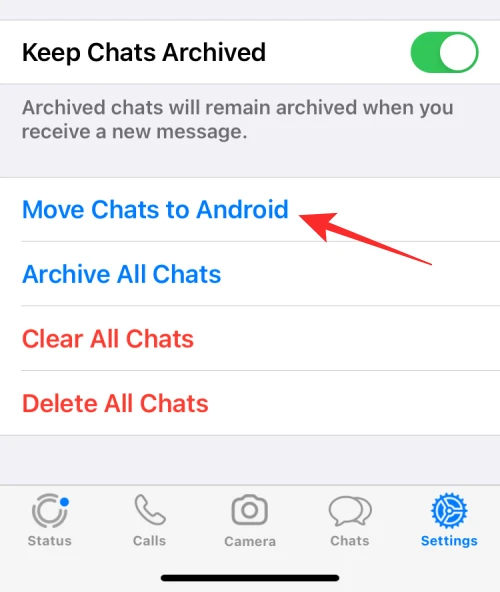 4 – You'll see a screen saying, "Move chats to Android." Tap the Start button at the bottom if you want to use the same phone number for WhatsApp on your new Android phone as you do on your iPhone. If not, you can choose the option just below "Start" that says "Transfer to a different phone number?"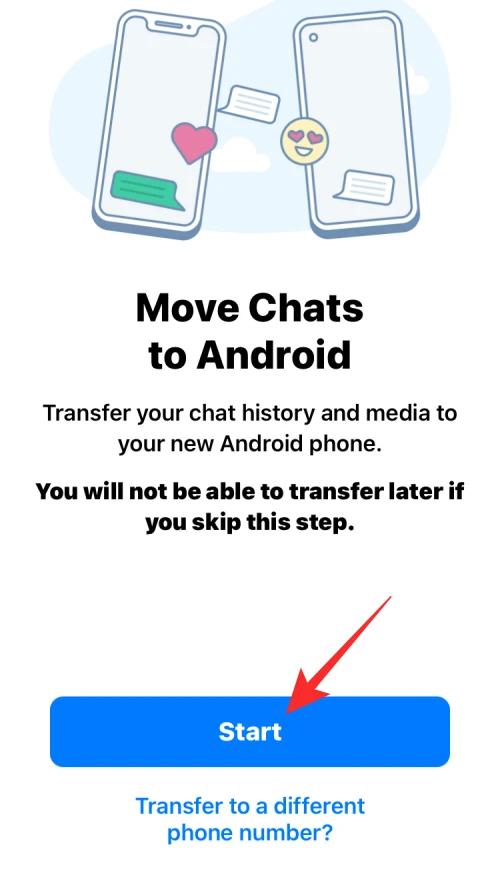 5 – WhatsApp will now start preparing your backup on your iPhone, and you'll be able to see the progress at the bottom of the screen.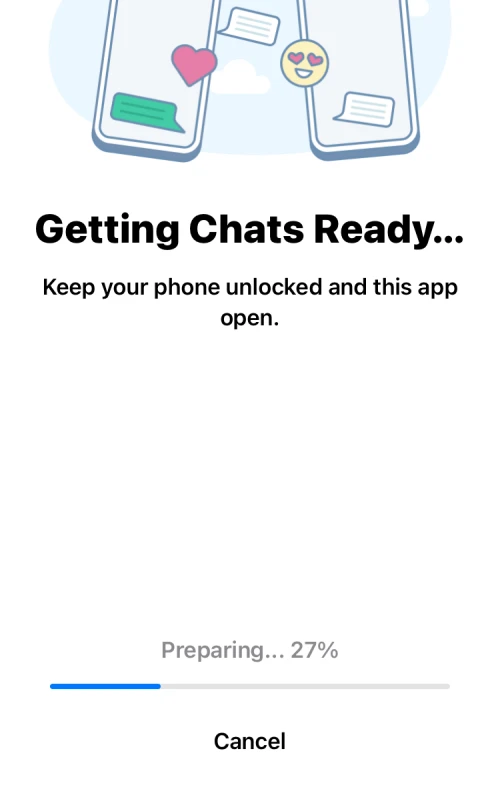 6 – The app will ask you to continue on your Android device once the backup is done. Connect your Android phone to your iPhone, and then read the steps below.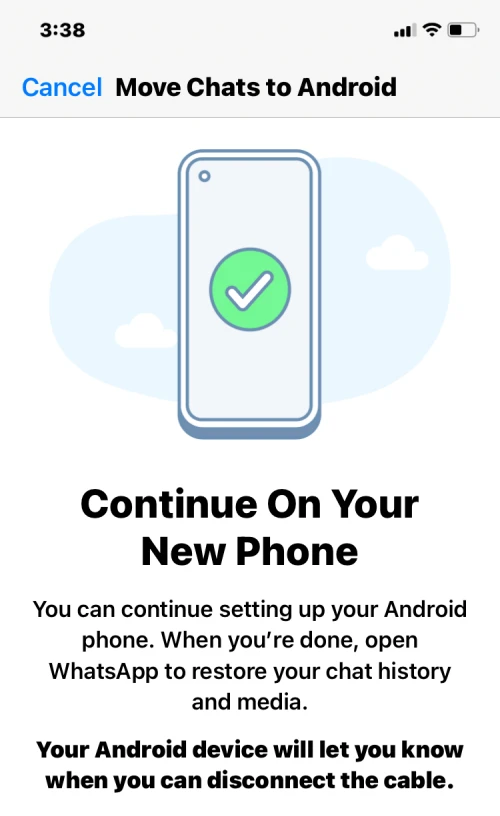 7 – You need to move to the Android device where your WhatsApp chat history is stored. On Android, finish setting up your device, open the WhatsApp app and use your phone number to sign in to your account.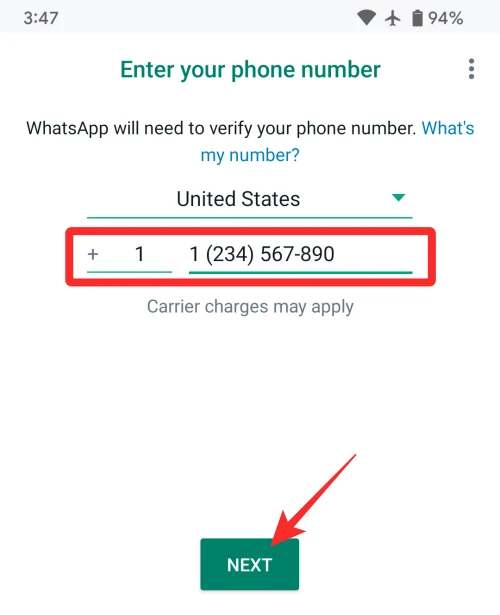 8 – When your iPhone sees that you've signed in to WhatsApp on Android, it will transfer your chats and media from the iPhone. You can check the progress of the transfer on your iPhone. During this process, ensure that both of these devices are unlocked and that the WhatsApp app is open.
WhatsApp iPhone To Android: Limitations
After waiting for a few years for an official tool, people can now use WhatsApp's "Move chats to Android" feature to move their conversations from an iPhone to a newer Android device. But there are a few things you need to think about before you use the new transfer tool.
First, you need to connect your iPhone and Android with a Lightning to USB-C cable to transfer chats from one device to the other. Even though these cables are easy to find and come with the new iPhones, the process will be more challenging than transferring content wirelessly over the internet, which is how apps like WhatsApp work.
Using a physical connection to transfer has problems, like when the cable is moved or when an Android device doesn't support wired connections with an iPhone. If you have an older iPhone, you may need to buy a Lightning to USB-C cable to finish the transfer.
When connecting to an Android device that doesn't have a USB-C port, the physical connection could also cause problems. In addition, it still needs to be clarified if the transfer process can be done on older Android phones with micro-USB ports instead of USB-C ports.
WhatsApp says the feature will soon be available on all Android 10 and higher devices. But, unfortunately, you can only transfer your WhatsApp chats to a new Android device. You can't move them to an old one. This means that devices made before 2019 won't be able to use the transfer feature.
Another big problem is that if you have already moved your chats between the two platforms, the transfer tool will only combine your chat threads into a single history. If you've used iCloud and Google Drive to back up your WhatsApp chats on your iPhone and Android, your final chat history on WhatsApp will have multiple threads for the same person you've talked to, and they won't be merged into one. When you do a backup after this kind of transfer, the data from the transfer will replace the backup you already had.
Is It Possible To Transfer WhatsApp Chats From Android To iPhone?
Those switching from an iPhone to the latest Android device can now use WhatsApp's chat transfer feature. However, if you want to switch from an Android to an iPhone, you can only do so if you have a Samsung Galaxy phone. Also, a future update is in the works for the Android WhatsApp app that will make it easy for all Android users to move their chats to an iPhone, but there's no exact date for when that might happen. So, for now, you can only move your WhatsApp chats from Android to iPhone if you have a supported Samsung phone.
Conclusion:
That's all you need to know regarding transferring WhatsApp messages from an iPhone to an Android.