How to Fix WhatsApp Reconnecting Issue on iPhone? WhatsApp Reconnecting IssueWhen you make a call from your iOS phone to WhatsApp, does it say "Reconnecting"? Here is a simple guide on how to fix the problem of WhatsApp not reconnecting on your iPhone. Are you having issue with your iPhone's WhatsApp reconnecting? In this guide, I've given you a few simple tips on how to fix that.
When we think of instant messaging on smartphones, the first thing that comes to mind is the WhatsApp app. Even though the iPhone comes with its own iMessage app, most people use WhatsApp instead. This is because the messaging app is easy to use and has a lot of useful features. Most of the time, WhatsApp is useful and works well, but when the "reconnecting" error comes up, it takes a long time for the app to sync to its servers and load the messages.
Why WhatsApp Reconnecting Issue is Happening on iOS? 
Now, let's talk about what might be causing the WhatsApp reconnecting issue. WhatsApp can stop working and show the reconnecting error if the internet connection isn't stable or if background refresh is turned off. If there's a bug in the WhatsApp app, it might be hard to reconnect and the messages won't load right. On the other hand, if you are using the iOS developer beta, the issue with WhatsApp not reconnecting on your iPhone may be caused by a bug in iOS. Even if the iPhone is set to low power mode and low data mode, the app won't work as well and messages might not load properly.
Best Ways to Fix WhatsApp Reconnecting Issue on iPhone 
Let's get started with the troubleshooting Tips for WhatsApp Reconnecting Issues on the iPhone
Restart the iPhone
Start with the easiest things to fix, like turning off and on the iPhone. Often, it's a random issue with the network or iOS that keeps the app from working as it should.
1. Pressing the side button for a few seconds will bring up the screen for turning off the device.
2. Slide to Power Off can be turned off by moving the slider.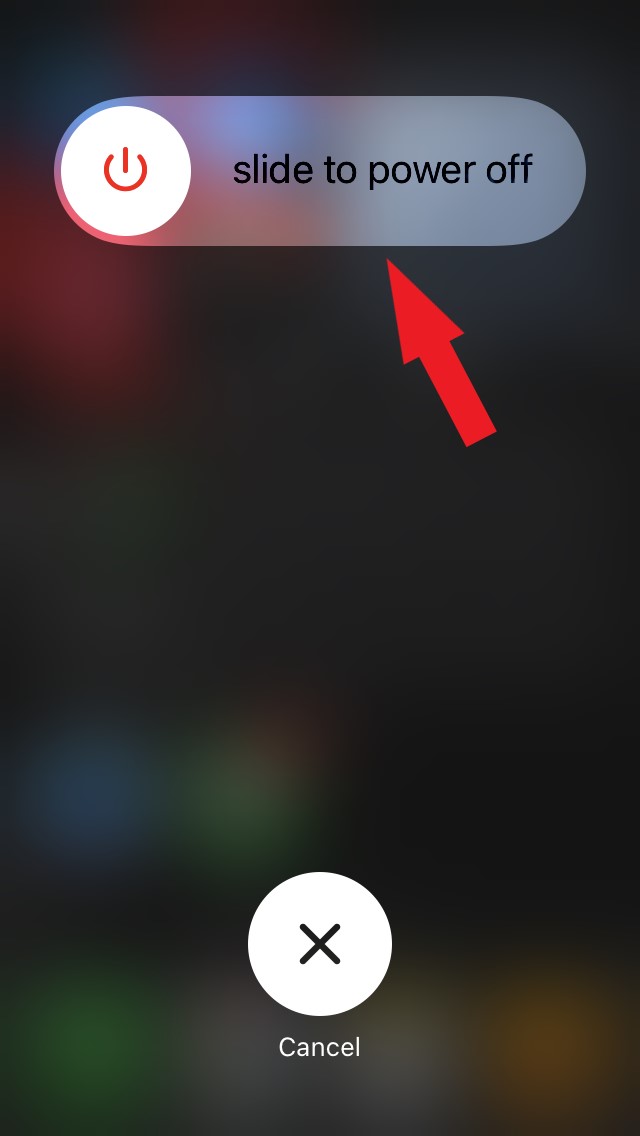 3. To bring the iPhone back on, wait a few seconds and then press the power button again.
4. Check up WhatsApp and see if it's connecting well now.
Check the Internet Connectivity
If the WiFi is down or unstable, WhatsApp might not sync correctly. So, try using other apps on your iPhone to see if they work. If they don't answer, there might be an issue with the internet. Get in issue with your ISP and let them know what's going on.
ISP told you to reset the router in your room. If not, connect to any other WiFi networks that might be available. You can use mobile data, but if it isn't fast enough, you may still have issues with WhatsApp syncing.
Disable the Low Data Mode
If you have set a limit for how much data you can use on your iPhone, the data speed will slow down a lot after that limit. This is done so that less data is used every day. You will save data, but some apps, like WhatsApp, might stop working.
1. Go to the app called Settings.
2. Tap Mobile Data, and then choose Mobile Data Options.
3. Tap the switch next to Low Data Mode to turn off the feature.Disable low data mode on iPhone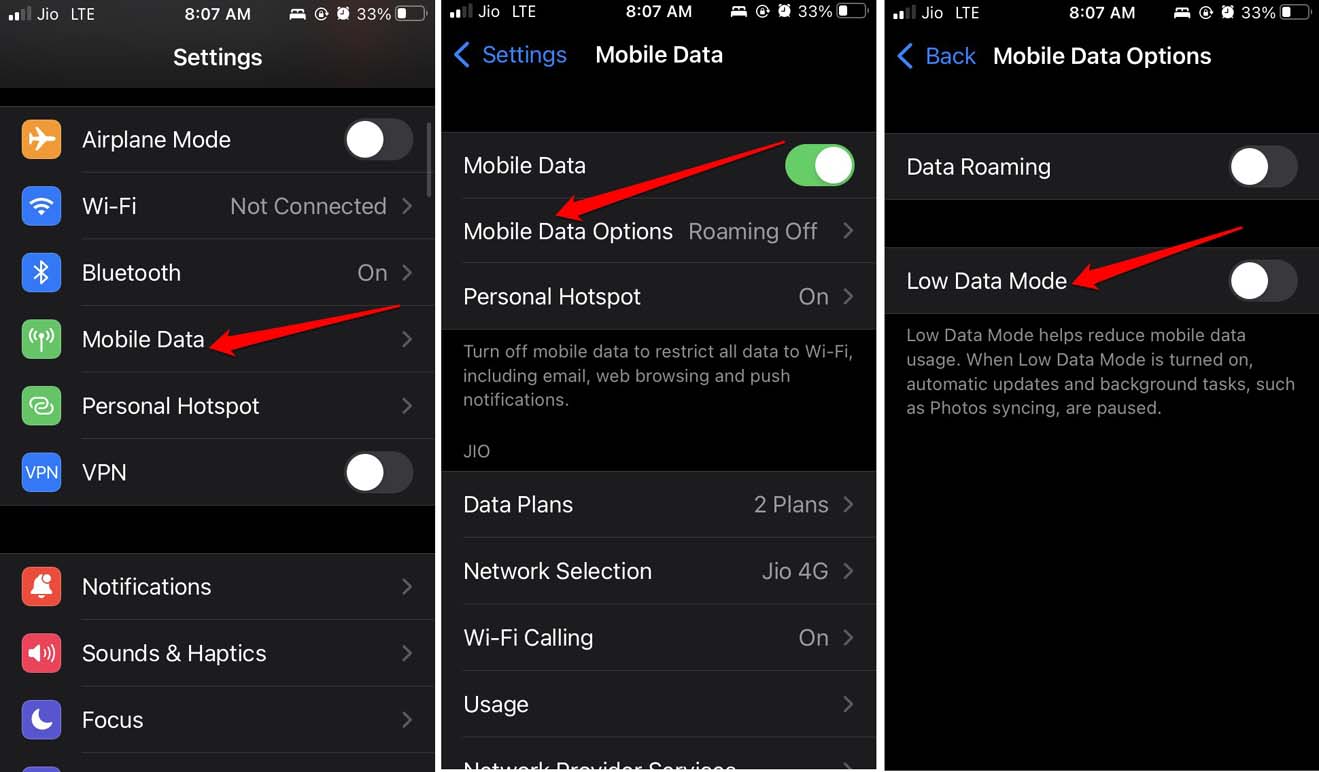 Update WhatsApp
Always check sure that you have the latest build of WhatsApp This will keep technical bugs out of the app. To update WhatsApp, you have to go to the App Store.
1. Open up the App Store.
2. Tap the picture of your Apple ID in the upper right corner.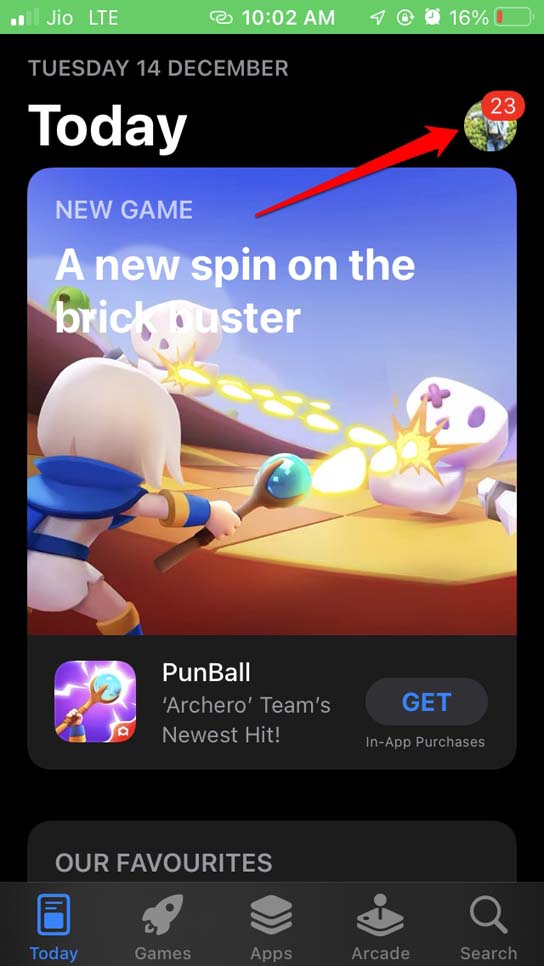 3. Check to see if WhatsApp is on the list of apps that need to be updated.
4. Tap the Update button next to WhatsApp if it's on that list. Whatsapp update

Install the Latest iOS Update
Along with fixing the concerned app, it is also essential to install iOS updates periodically. Apple fixes bugs in the iPhone's mobile operating system with each new software update. These bugs can sometimes cause other apps installed on the iPhone to stop working.
Head to the Settings app to install on a new iOS update.
1. Tap on General under iOS Settings.
2. Then tap on Software Update and wait for the device to search for a new iOS build.
3. If the latest version of iOS is ready to be installed, you will see a button that says "Download and Install."
Tap on it to get started.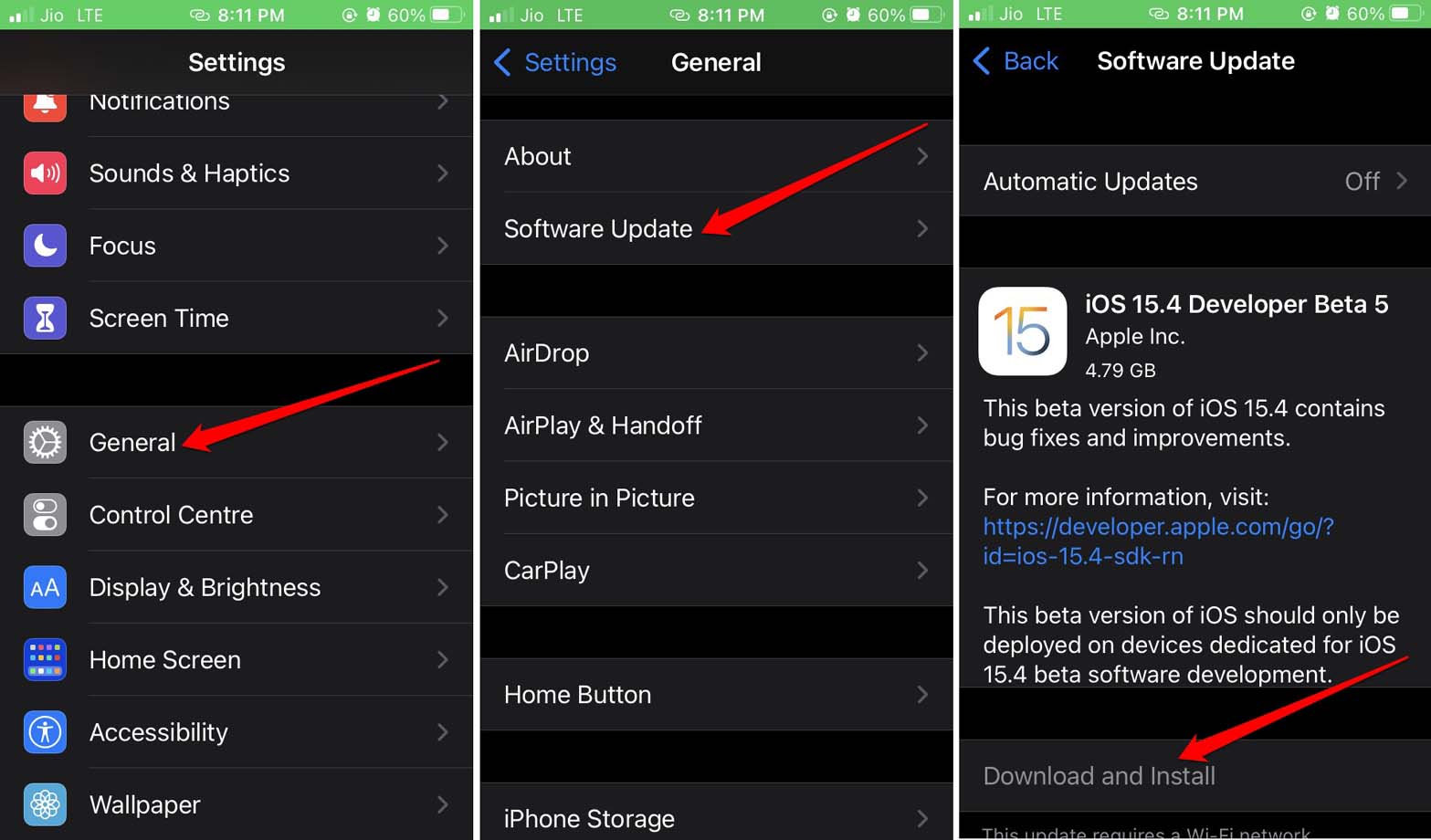 4. After you install the new iOS update, use WhatsApp to see if the reconnecting error is still happening or if it has been fixed.
Disable Low Power Mode
If the device is almost dead, trying to run multiple apps, like WhatsApp, will cause everything to make working. Even if the network is strong, WhatsApp messages won't sync, so you might not see new ones.
To fix this, put your iPhone on charge right away. Also, make sure you turn off the low power mode.
1. Start the app for settings.
2. Find the Battery and then tap it.
3. To turn off Low Power Mode, tap on the switch next to it.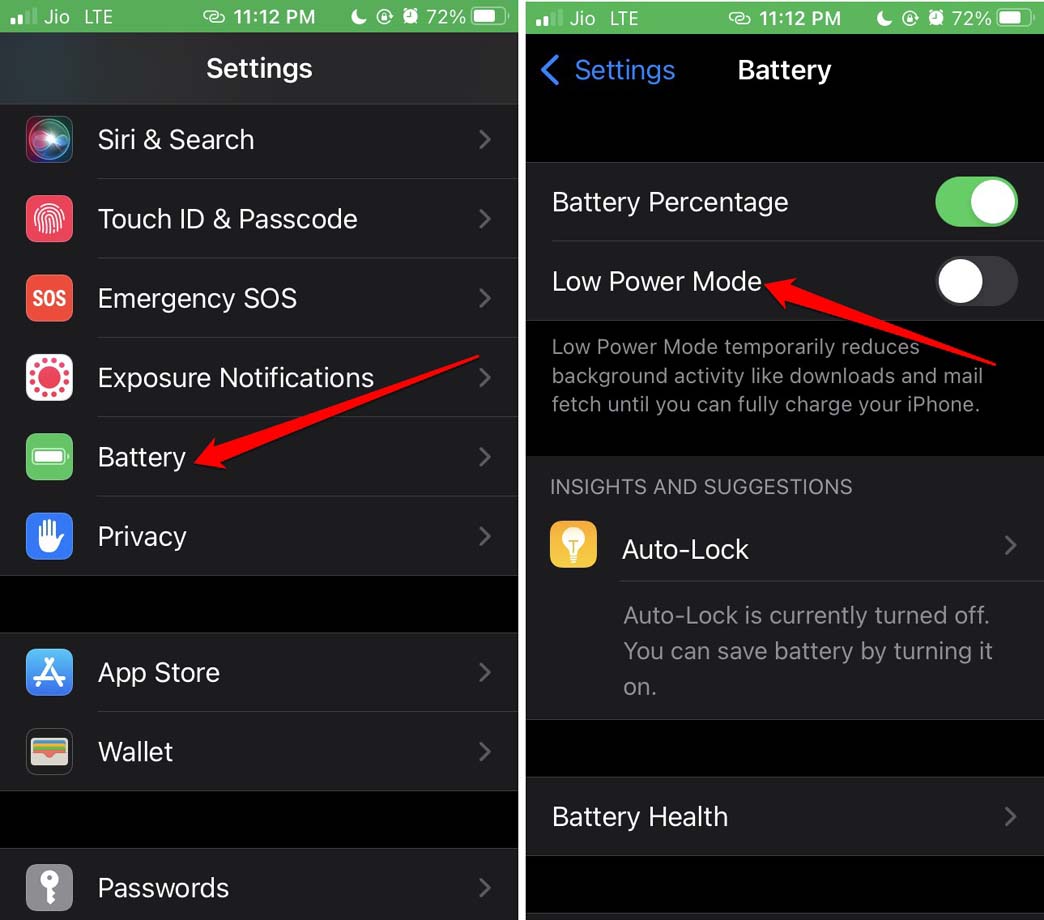 Enable Background Refresh for WhatsApp
Make sure to turn on background refresh for WhatsApp so that it keeps getting updates even when you're not using your iPhone.
1. Open iOS's Settings.
2. Tap on WhatsApp after you find it.
3. Under that, tap the switch next to Background Refresh to turn it on.
Also, I will tell you not to close WhatsApp by force from the app switcher. Let the messaging app run in the background so that it can stay in sync with its server and give you all the right updates.
Uninstall and Reinstall WhatsApp for iOS
You could also delete WhatsApp and download it again from the App Store.
1. Find the icon for WhatsApp in the App Library.
2. If you hold down on the app icon for a while, the shortcut menu will appear.
3. Select Delete App.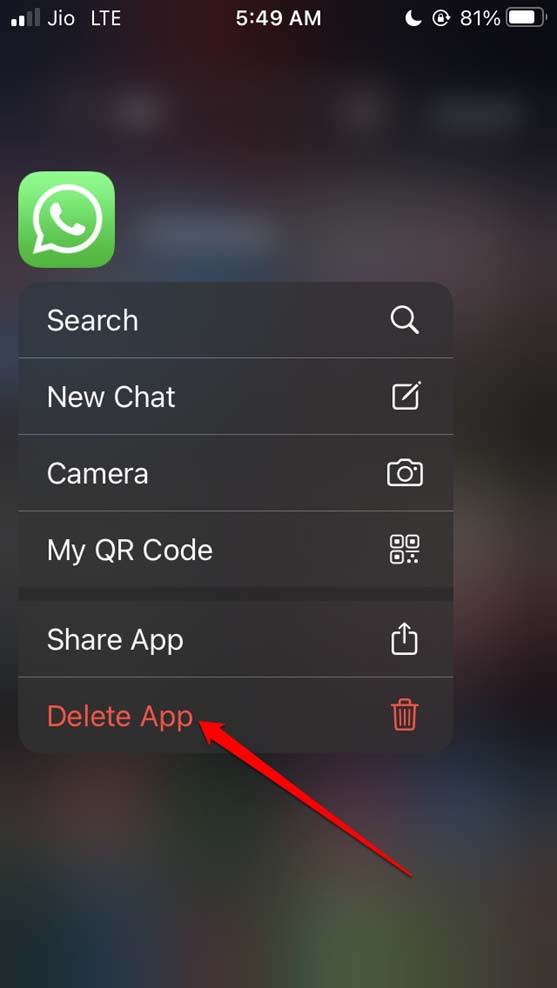 4. Open the App Store now.
5. Search WhatsApp and tap on the icon that looks like a download button to get it back on your iPhone.
Reset Network Settings
If nothing else works to fix the problem, you might want to try resetting the iPhone's network settings. This will fix any issues with the device's network, which could be why you're getting the "WhatsApp cannot reconnect" error on your iPhone.
1. Open the app for Settings.
2. Tap General next.
3. Now, find Transfer or Reset iPhone and click on it. Tap it.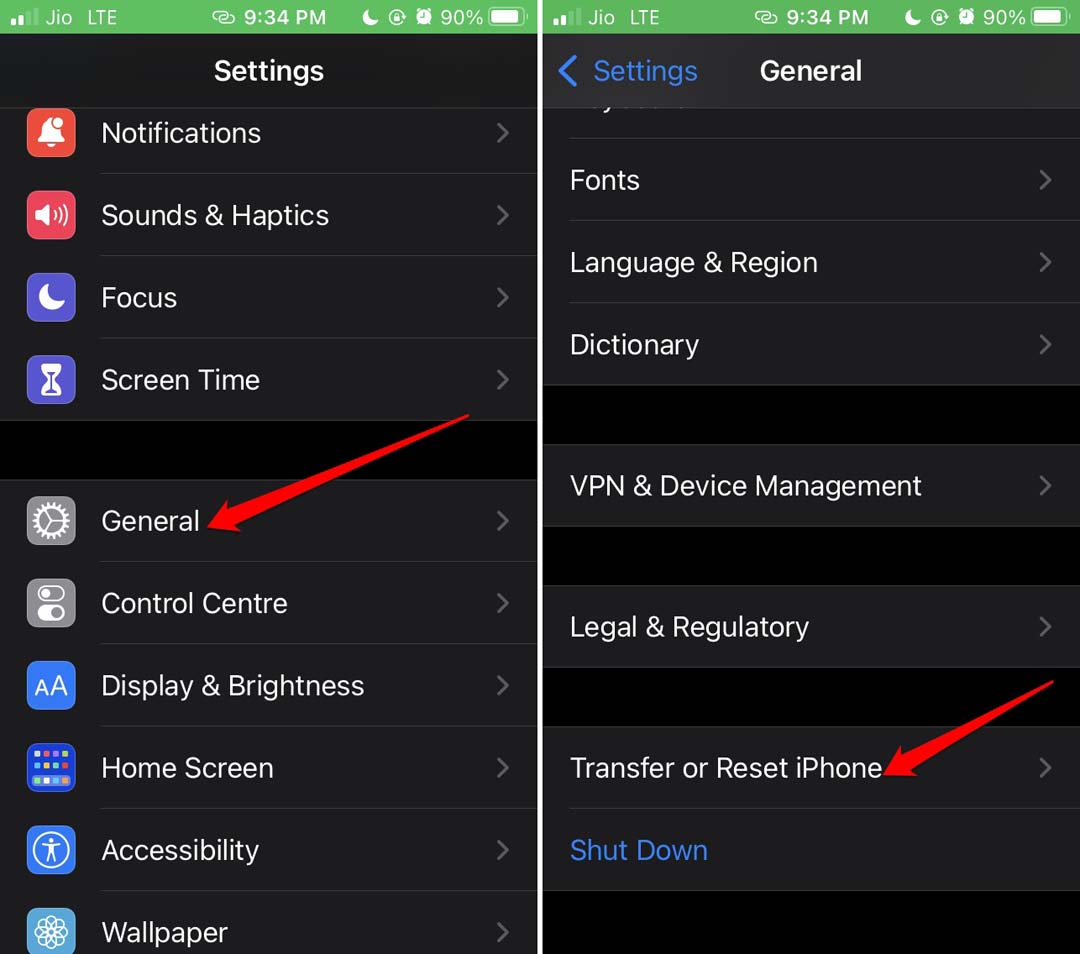 4. Next, choose Reset from the menu and then tap Reset Network Settings.

5. To confirm the reset, enter the passcode for the device.
6.  When the device is done being reset, open WhatsApp. It should now connect and sync without any issues.
Final Words:

We use WhatsApp for all kinds of communication, and it has become a part of our lives. Everyone uses WhatsApp, whether they want to talk about work or something else. Fix the "WhatsApp is not reconnecting" error on your iPhone so you can use the free features of WhatsApp and keep it in sync. I hope this will be helpful.
If you have any thoughts on "How to Fix WhatsApp Not Reconnecting on iPhone? ", feel free to leave them in the box below. Also, please follow our DigitBin channel on YouTube to get video tutorials. Cheers!