YouTube Video Editors For iPhone Users: To create interesting videos, you used to need to buy a computer, a DSLR, and expensive video editing software in the days before YouTube. You can create great YouTube videos with your phone these days. You can take Full HD videos with a high frame rate on your iPhone. Also, you can edit them on your iPhone. You only need a good iPhone video editing app to create interesting YouTube videos.
Best 13 YouTube Video Editors For iPhone Users

This post is just for you if you are an iPhone user and wish to create your first YouTube video. To help you create the ideal YouTube videos without spending hundreds of dollars on expensive video editing software, we've compiled a list of the best YouTube video editors for iPhone. Let's look at the best YouTube video maker apps.
Pocket Video Editor & Maker is a simple app for video editing for social media and video sites. You can use this to create a video for your YouTube channel. The app lets you create, shoot, and edit your best videos. The app has simple and complicated video editing tools, so you can use them to make HD videos.
GoPro Quik is among the best vlog editors for iPhone that you can get from the Apple app store. If you have a GoPro Camera, you can use this app to control it. GoPro Quik, for example, can be used to control the GoPro features from afar, see a sample of a shot, and share content. You can use the app to edit your videos if you do not have a GoPro camera. The app has strong editing tools that can change your videos quickly. In general, GoPro Quik is a good video editing app for iPhone.
Try Splice if you want a free way to edit YouTube videos on your iPhone that fits your artistic mind. You can create professional-looking videos for your YouTube feed with the help of Splice, a great iPhone video editing app. Splice has nearly everything you need to create or edit a great video. It has strong editing tools that let you trim, cut, merge, add too many videos, remove the background with the Chroma key, and do other things. Splice also has over 6000 royalty-free tracks from Artists and Shutterstock sources that you can use in your videos. Splice is a great app for making YouTube videos that you should take advantage of.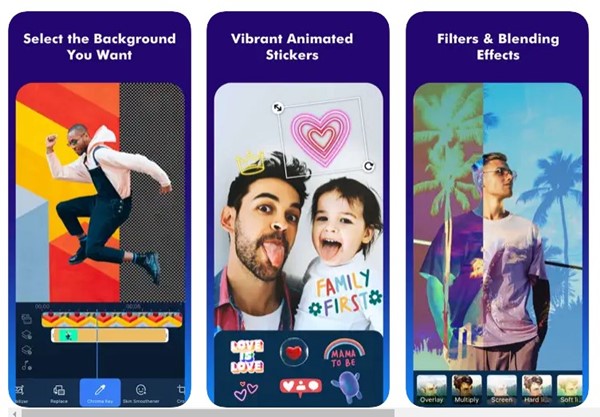 PowerDirector is an app for the iPhone that lets you make and edit videos. It contains a lot of video editing tools. You can use it in just a few seconds to create YouTube videos that look like pros made them. What's that? PowerDirector has tools for editing all kinds of videos. Using this app, you can trim your videos, adjust the colors and brightness, add effects and filters, add text or moving titles, add voiceovers, and more. PowerDirector's free version has most of the features, but if you want to use all of them, you have to buy them inside the app.
KineMaster is a free app for the iPhone that makes it easy to make videos for YouTube. This makes editing videos on your iPhone fun because you can use many strong tools, download images, and more. KineMaster has many useful features for editing videos, like adding music, voiceovers, sound effects, and voice changes. KineMaster lets you put transitions, effects, stickers, fonts, and animations into your videos. It also has tools for cutting, splicing, and cropping videos, adjusting colors, using equalization settings, and more.
InShot might be the best iPhone app for making YouTube videos. Social media producers primarily use the app to create interesting videos for their viewers. Regarding YouTube video editing, InShot can cut or trim a video, trim the middle, merge two clips, adjust the video speed, add music and effects to the video, and more. You can add text, images, frames, and effects to your YouTube videos with InShot. In general, InShot is a good YouTube video editor for iPhone.
Filmmaker Pro is a great app for video editing on your iPhone like a pro. It has more advanced tools than other YouTube video editors for iPhone, such as editing with a green screen, video grading, audio ducking, motion tracking, and more. Filmmaker Pro has a few music features, as well as video editing. It gives you a lot of royalty-free music tracks that you can use in your videos. You can also adjust the volume of the audio and control the speed at which the music plays.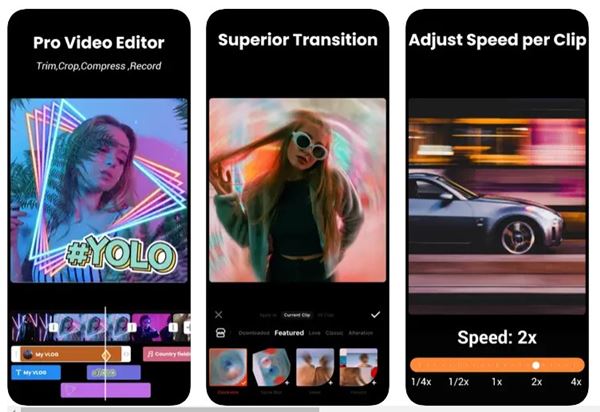 VideoShow is a great YouTube video editing app on an iPhone. It has a wide range of tools and effects. The app has themes for all social networks and sites for sharing videos. You need to choose a template and start editing it. You can add transitions, filters, music, and other things to your YouTube videos while editing them in the YouTube app. The only problem with VideoShow is that it isn't fully free, and the free version doesn't let you share videos in 1080p.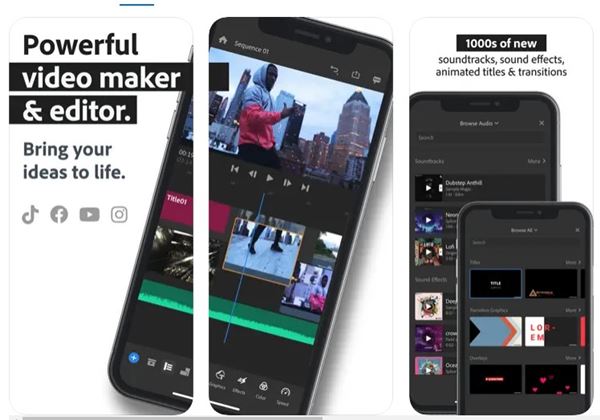 Adobe Premiere Rush is a good video editing app for iPhone that gives you many cutting-edge features like speed adjustment, color correction, customizable animated titles, and more. As for the basic video editing features, Adobe Premiere Rush lets you trim and crop videos, flip and reverse video clips, and add stickers, layers, filters, transitions, and effects to your videos. The paid version of Adobe Premiere Rush also gives you access to a more powerful audio tool that uses Adobe Sensei AI to balance sounds and automatically duck them. This is a great YouTube video editing app on an iPhone.
Magisto from Vimeo is the best-rated app on the Apple app shop for making and editing videos. To start making your YouTube video, you must choose the style and load your video. Once you've imported your video, you can edit it however you like. The app has many different video editing tools, such as transitions, effects, filters, color grading, etc. Magisto's paid version gives you access to special styles and themes, iStock video clips in full HD, colors, and fonts that you can change, and free access to Vimeo Pro.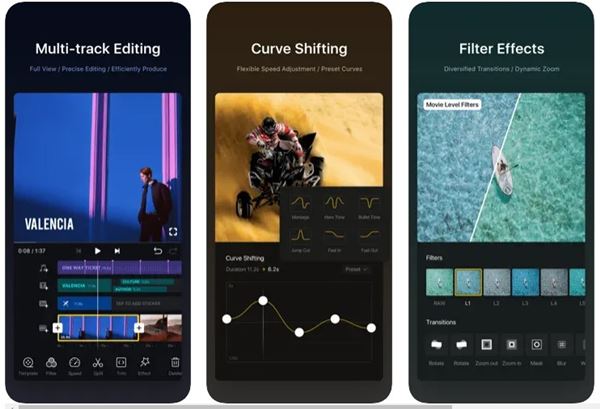 The VN Video Editor is not on any iPhone YouTube video editors list. You can use the app to create videos for YouTube & other social networking and video-sharing apps like Instagram, TikTok, etc. The app also has great features, like a green screen/chroma key, which lets you change your background. Also, you can use the app to cut, trim, merge, add music, adjust the colors, and add transitions, filters, and effects to your YouTube videos.
Filmora is the best app for making videos on an iPhone. It has a lot of features that let you be more creative. You can trim videos, add music, transition effects, text, emojis, filters, and more with this YouTube video maker. Filmora's timeline-based video maker is easy to use, which makes editing videos a breeze. When you're done editing your video, you can also share it on YouTube immediately.
With all the features you'll need to edit your YouTube videos, CapCut is a full-fledged video editing iPhone app. CapCut doesn't call itself a YouTube video maker, but it has all the editing features you might need to improve your videos. CapCut has free advanced features like slow-motion, chroma key, video stability, keyframe animation, etc., and basic video editing.
Consider The Following:
Conclusion:
So, these are a few of the best free YouTube video editors for iPhone. Most apps mentioned in the story were free and could be downloaded from the Apple app shop. Let us know in the comments if you know of other YouTube video editors for iPhone.