Users always search for ways to get free recharge or Talktime even though telecom providers have lowered the prices of their call/SMS/internet deals. In 2018, there were a lot of apps for Android that gave you free Talktime. But things have changed a lot since then, and now you can only get free recharge options from a few apps. And in this article, we'll list a few free recharge apps for Android.
Best 6 Free Recharge Apps For

Android

To Earn Talktime
So, if you're searching for the best free Android apps to earn free talk time and/or recharge your phone, this guide may be helpful. Check out the best apps below to recharge numbers and earn talk time. Let's check out.
One great Android app on the list you can use to earn credits is Google Opinion Rewards. Simple surveys must be completed to use the app. You earn Google Play Credit as you fill out the surveys. The problem with Google Opinion Rewards is that it only gives you Google Play Credits. This means the rewards can only be used on the Google Play Store.
Taskbucks is a free cash app for Android that lets you earn coins and convert them into cash. You can play quizzes and games, complete tasks, call friends and earn coins through referrals, participate in the daily contest, and more through the app's various means of earning coins. Also, you can earn up to 10,000 coins daily with Taskbucks, which you can convert into cash or use to power your mobile device. But the app has been getting a lot of bad reviews lately because of bugs and other problems. You can move the cash to your bag if you don't want to use it. The app has teamed up with all of the most popular wallets so that you can get cash rewards. Overall, Taskbucks is a great app for Android phones that lets you do free mobile recharge.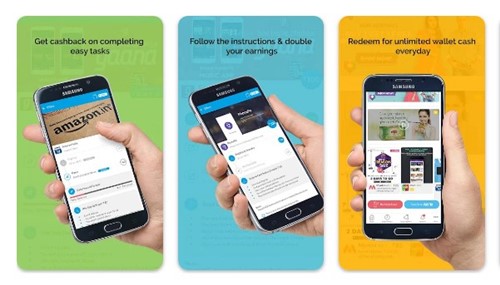 Pocket Money might be the best option if you're searching for an Android app to earn endless free mobile cash recharge and wallet cash. It's a great app that pays you cash for doing simple tasks. The Play Store ad says a user can earn up to 7,000 INR daily with Pocket Money. You can search for and download apps to get cash back, find deals, finish specific tasks, watch Pocket videos to make cash back or do free mobile recharge. Its promotion program also gives you 160 INR for each new user who joins through your link and does certain tasks. Pocket Money is a great app for Android that lets you earn cash for your wallet.
Well, Swagbucks is an app on the Google Play Store that lets you get gift cards and cash back. You can earn free gif cards and cash using this app. Even though the app isn't designed for mobile recharges, you can even use the cash amount to buy gif cards for big e-commerce sites that allow mobile recharge. To make money with Swagbucks, you have to do things like take paid surveys, earn cash for shopping, get paid for watching videos and playing games, and more.
mCent Browser is a full-featured browser app for Android to earn free Talktime. You need to make an account with mCent, and then your web browser will instantly connect to your service and give you options for recharging prepaid plans. To earn talk time for free, use the mCent Browser to go to your favorite websites, read the latest news, and/or search for anything in the search bar. The amount to recharge grows as you use the computer browser. When it comes to the features of a web browser, mCent Browser has everything you're likely to need, like Incognito mode, Ad Blocker, Night Mode, Bookmarks, Tabbed viewing, etc.
Well, Task Mate from Google is one of the best free recharge apps for Android to earn money. It's an app that rewards you for tasks for businesses worldwide. The tasks were simple. For example, you might be asked to photograph a nearby restaurant, answer poll questions, and more. Users can participate in tasks they are interested in with Task Mate, which is a plus. You can skip a job if you don't want to do it. When you finish a job, you get paid and can then take the cash to your e-wallet or bank account.
FAQs:
Are These Free Recharge Apps Available Worldwide?
No, most of the free recharge apps for Android that are mentioned in the article are only available in certain countries. Some apps, like Taskbucks, Swagbucks, and Google Opinion Rewards, however, give you credits rather than recharge. So, you can use those credits to recharge on any mobile number.
Are Free Recharge App Fake Or Real ?
The free recharge apps for Android we have listed that let you get free recharges are real. But you can find a lot of fake apps in the Google Play Store. Such apps are primarily designed to trick users, so it's best to avoid them.
Google Opinion Rewards Surveys Don't Show
You must wait a few days if Google Opinion Rewards needs to show surveys. Surveys are shown based on the area in Google Opinion Rewards. So, if you've already done all the surveys in your area, you must wait for the next one.
Which App Gives Free Recharge?
If you only want free recharge, try the Freecharge app mentioned in the article. With this app, you can earn cashback and get free recharges. Not only that, but prepaid users can also use the app to get free data for the internet.
How To Earn Money From Mobile Recharge?
It would be best to use apps offering cashback rewards to earn money from mobile charges. On every reload, apps like Google Pay, PhonePe, etc., offer free cashback or scratch cards. You can use it to charge your phone when you have enough cash.
Consider The Following:
Conclusion:
So, these are some of the best free recharge apps for Android you can use right now. With these free recharge apps for Android, you can earn a good amount of cashback. Let us know in the comments below if you know of other apps that let you earn cashback for free.