Photo Management Apps For Android Devices: The power of Android smartphones is rising. Now, smartphones have cameras that are so good that they can even beat DSLRs. We are always compelled to capture more and more pictures with such high-quality camera specs. Well, taking photos is good, but over time, our smartphone gets full of pictures. In addition to the photos you take, the internal storage holds the images your friends send you via instant messaging apps.
Best 10 Photo Management Apps For Android Devices

These image files can take up a bunch of space on your device and slow it down. Therefore, photo management apps are required to address these problems. There are a lot of photo management apps for Android, and we'll list some of them here. So, let's look at the best photo management apps for Android.
Files by Google is a file management app that can be downloaded from the Google Play Store. Clean up junk files, free up space, find files faster, share files offline, and more with Files by Google. A duplicate file cleaner that can scan and clean similar photos is also available to users through Files by Google.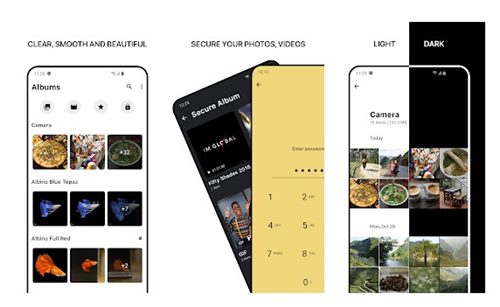 Try 1Gallery if you're looking for an Android smartphone gallery app option. 1Gallery is an app for organizing your photos that is a gallery. In addition to normal photo management, 1Gallery offers the option to store private photos in a vault that can be secured with a password, PIN, pattern, or fingerprint.
Piktures is a full-featured gallery app for Android smartphones. With Piktures, you can manage photos saved locally and photos kept on cloud storage services like Dropbox, Google Drive, OneDrive, and more. Piktures' best features include a photo maker, a video player, a secret space to hide photos, and more.
Gallery is a highly rated, easy, modern photo gallery and photo management app that lets you watch and organize photos and videos. The app has a clean and easy-to-use design, and it puts pictures, GIFs, and videos into albums. You can rename, delete, share, and change pictures, videos, and GIFs with the Gallery app. You also have the option to use any picture as the background for your home and lock screens.
The stock gallery app for Android smartphones is Gallery Go, which is much lighter. Lightweight photo management is made easier by the app. What's more interesting is that Gallery Go offers useful photo editing features even when you're not connected to the internet.
One of the best free photo gallery apps for Android is A+ Gallery. This one adds a wide range of photo management tools. The best thing about A+ Gallery is that it instantly sorts your photos by when and where you took them. Not only that, but you can also make and manage photo albums with A+ Gallery.
The app's beautiful material design makes it quick and easy to use. You can easily manage your photos and easily make albums with Memoria Photo Gallery. Memoria Photo Gallery has a vault where users can hide pictures and albums for safety.
Well, it's an official Google photo management app for your smartphone that helps you organize all your photos. The app is known for its useful features, such as shared albums, automatic projects, and a range of tools for expert edits.
Well, it's one of the best private photo gallery apps on the Play Store, and you can change it a lot. With this app, you can sort your photos, change them, and even get back photos you accidentally lost. Even though it is an offline photo gallery clean app, it offers many useful features like duplicate photo cleaning, photo recovery, and more.
What's that? You can manage your photos and delete useless or duplicate images with Slidebox – Photo Organizer. Not only that but Slidebox – Photo Organizer can also compare photos that are alike. Additionally, it supports several movements for photo management, including the ability to swipe up to delete all photos and swipe down to access the filter menu.
Consider The Following:
Conclusion:
So, these are the best photo management apps for your Android smartphone. If you know of any other photo management apps for Android, let us know in the box below. This post was helpful! Please share it with your friends as well.