When we look around, we can see that technology is changing quickly. We have the freedom to work from the Internet these days. In this modern world, we meet many people with different native languages through social networking sites. We need a translation or to learn a new language to talk to each other. Learning a new language can be challenging because it has a whole new set of grammar, vocabulary, etc. But some Android apps can help you get things done faster. This article has chosen to share a list of the best Language Learning Apps for Android.
Best 10 Language Learning Apps For Android
You can quickly learn new languages on the go with these Android apps. Check out the list of the best Language Learning Apps for Android to improve your speaking skills.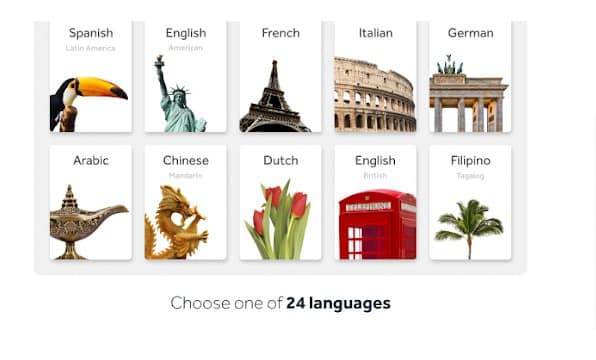 Rosetta Stone is one of the Google Play Store's best language learning apps. With the Rosetta Stone Android app, you can learn 24 different languages. This app makes it easy to learn a new language and keep track of your progress. The app also helps you improve your pronunciation, vocabulary, grammar, and learning of a new language. Unfortunately, Rosetta Stone is the most expensive app on the list.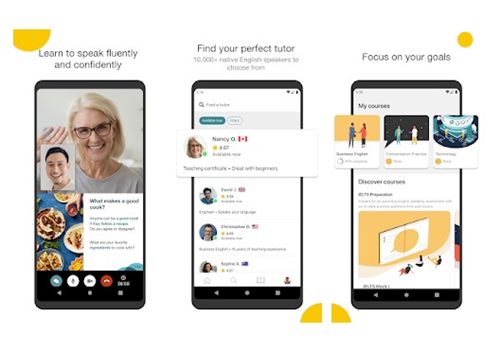 It is an app for Android that will help you quickly learn English. It's an app that lets you meet with an expert English speaker over video chat to practice your English. In addition, many helpful English teachers on the app are ready to help you practice language skills, pronunciation, and any other English skills you'd like to improve.
The Android app Duolingo makes learning English fun. The app gives you fun mini-lessons that feel like games to help you learn English. It is an app that lets you practice listening, speaking, reading, and writing to improve your English vocabulary and pronunciation. You can download the app for free and learn languages like Japanese, Korean, Spanish, and more, in addition to English and Chinese.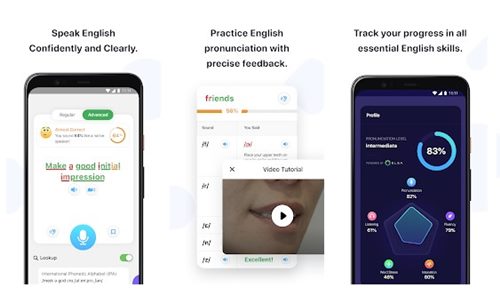 This one is an English pronunciation app that will help you speak English with confidence and clarity. You can take a speech test made by experts on the app. After you finish the test, you'll get a full report of your best and worst pronunciation skills. After studying your results, the AI speech teacher will choose the best bite-sized lessons to improve your strengths and reduce your flaws.
Well, Babbel is one of the best apps for learning languages that you can get for your Android phone. Babbel is special because it offers organized classes made by people who know about languages. The free version of Babbel has 40 classes, so even if you don't spend any money on the app, you can still learn a lot of phrases. Babbel is the best language learning app available right now, with a user design that is both clean and lightweight.
The app is the world's first place where people can talk about language and culture. It connects you with people who understand English, Japanese, Korean, Spanish, French, Mandarin Chinese, Cantonese, Portuguese, German, Italian, Russian, Arabic, and more than 100 other languages.
Memrise is an Android app for learning languages but teaches languages differently than other apps. It connects you with real, local speakers, allowing you to understand the pronunciation and hear clear phrases, unlike all other Language Learning Apps for Android. In addition, the paid version of Memrise gives you access to all lessons, games, and methods.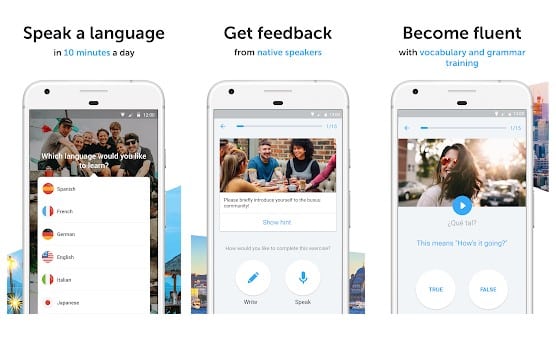 Well, Busuu is one of the best apps for learning languages you can get from the Google Play Store. You won't believe it, but over 90 million people now use the app. The app has over 12 popular language classes, such as Spanish, French, English, and Japanese. The first time you use the app, it gives you a test to see how good you are, and then it suggests classes based on how good you are. But to get the most out of the app, you must buy its "premium" version.
Quizlet is the best choice if you want an easy way to practice and learn several languages. The app makes it easy to practice and get good at what you are learning. In addition, Quizlet makes learning languages, history, vocabulary, and science easy and useful.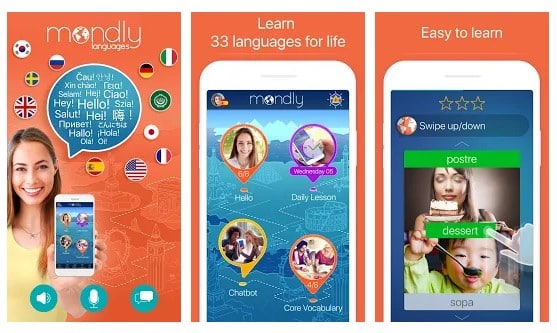 Mondly is another top-rated app for learning languages that can be used on Android phones. You can learn 33 different languages for free with Mondly. This app is straightforward to use and gives you free lessons almost daily. It also has many fun language lessons that can help you improve your vocabulary, spelling, and pronunciation. Also, the app uses smart reporting to keep track of your progress at all times.
FAQs:
How Many Languages Can I Learn With These Apps?
With these Android apps, you can learn a lot of different languages. For example, you can learn English, Japanese, Korean, Spanish, French, and many other languages fast.
Downloading These Apps Is Free?
Most of the Language Learning Apps for Android mentioned in the article could be downloaded for free from the Google Play Store.
Should I Make An Account?
Some apps may ask you to sign up for an account. You can also buy classes with extra features.
Consider The Following:
Conclusion:
So, we talked about the Best Android Apps For Learning A New Language. You can learn all kinds of languages with these Language Learning Apps for Android. This article was helpful!