If we look around, we'll find that the number of e-commerce sites is growing. Since most Indian e-commerce sites now have a "cash on delivery" option, most of us shop online. It's best to shop online because we can save extra money when we pay. Almost all of the big e-commerce sites have apps for iOS and Android that you can download from their app shops. With these mobile shopping apps, you can look for the products you need, add them to your cart, and check out in just a few minutes. So, in this piece, we'll share some of the best shopping apps for Android. With these apps, finding great deals and savings while shopping is easy. Let's check out.
Best 10 Shopping Apps For Android Devices

Please keep in mind that these shopping apps only work in certain parts of the world, not everywhere. So, run the shopping apps that work in your area.
Wish has been around for quite a while. Well, it's one of the most popular shopping apps on the Google Play Store. The shopping platform brings shoppers and sellers together. That means there are no middlemen and no extra fees. You can look at more than 4 million products from the mobile app.
Etsy is a good shopping app for Android if you want to buy old or handmade items. Etsy is an online shopping platform with many handmade, antique, creative, and custom goods. People often use the platform to buy gifts for weddings, anniversaries, birthdays, holidays, and other occasions. You can also find many things to make yourself on the platform.
Like Myntra, Jabong is the best shopping app you can now use on your Android device. The Jabong mobile app has more than 50,000 products, and it works with foreign names to give you the best products. The app's design is great, and the best shopping app you can use now.
Even though Shopee isn't very popular, it's one of the best shopping apps for Android. You can browse and shop for things related to fashion, tech, health and beauty, home and living, toys, and more with the help of this app. Shopee is known for more than just regular shopping. It is known for its deals area. In the deals area of Shopee, you can find a list of products on sale for up to 50% off.
Flipkart only sells to people in India, and its app is only for Android. However, the Flipkart app for Android looks great and has products from nearly every area. Not only that, but Flipkart is also one of the best e-commerce sites in India right now. When it comes to the Flipkart app, it has almost all of the features, like tracking, reviews, and a lot more.
Well, Amazon is the most popular shopping site in the world right now. It's also the most popular online shopping platform, where you can find and buy anything. Amazon also has a page just for people in India called Amazon.in. With the mobile app, you can quickly get to Amazon's Indian page, where you can shop for things you want to buy online.
Even though Snapdeal is less popular than Flipkart or Amazon, it has almost every product. In addition, on Snapdeal, you can also find some products that aren't sold anywhere else. Regarding the mobile app, the Snapdeal app for Android has a great design and gives you access to over 65 million options. Aside from that, the service also has an option for "cash on delivery."
Well, it's one of the best places to shop online, and you can trust it. Tata, which owns many companies like Tanishq, Fastrack, Croma, Voltas, etc., is behind the Tata CLiQ. Tata CLiQ is an underrated e-commerce site that has almost every product. When it comes to the Tata CLiQ Android app looks great, and you can check the progress of your order, see what you've bought in the past, and see other information.
You can find the same products on other sites and Paytm Mall, but Paytm Mall gives you up to 80% cashback on its products. Not only that, but users can also pay straight with their Paytm Balance at Paytm Mall. For your shopping needs, the mobile app has almost every product.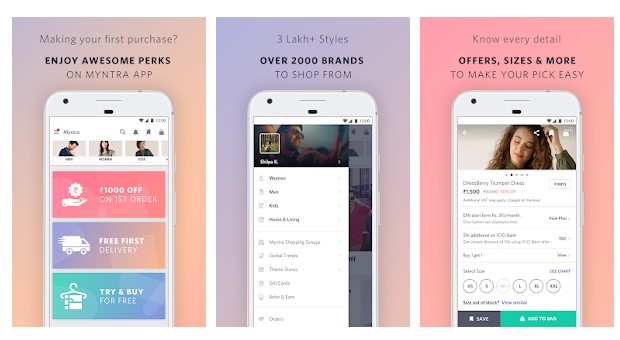 It is India's biggest online store for fashion and other things. More than a million products from over a thousand names are on the platform. So, if you want a shopping site that focuses only on fashion, Myntra might be your best option. With the Myntra app for Android, you can browse a wide range of products and check on the progress of your order.
Conclusion:
So, these are India's best shopping apps. From phones to shoes, these online shopping sites have everything. If you know of any other shopping apps for Android, leave your name in the comments. This post was helpful! Please share it with your buddies as well.