Even though Windows 10 has a lot of software for converting videos, we all want to use online video converters sometimes. Online video converters are great because you don't have to install apps to use them. With online video converters, you can change the format of a video without having to install a new program. Currently, Windows 10 has access to hundreds of online video converters. Most are free, but a small number require you to sign up for an account. So, if you want to convert a video to a certain format but don't want to install a program, you can use one of these online converters. We've listed some of the best free online video converter options below.
Best 10 Free Online Video Converter Options
With these free converters, it's easy to change the format of any video. So, let's look at the list of the best online video converters.
1. Media.io
Media.io is the same as all other free video converter sites listed. You can free convert video files to any format online with Media.io's video converter. Media.io has a pretty clean design, and it has a lot of other tools besides the video converter. You can use the site to convert music, turn videos into GIFs, convert MP3 files, add text to videos, and more.
2. Onlinevideoconverter
If you want to convert videos online for free, Onlinevideoconverter.com is the best site. What's that? The Online Video Converter can convert any video. But first, you must upload the video, select the desired video, and then click "Convert." It can also convert videos from links to sites like Dailymotion, Vimeo, and YouTube. The site is easy to use and supports various video and music files.
3. Flexclip
Flexclip is a web-based video maker with simple video production and editing options. You can easily reduce videos, edit videos, filter videos, add music to videos, mute videos, etc., with Flexclip. A free video conversion tool is also available to convert your videos quickly. It supports MOV, M4V, MP4, WEBM, and other video files. Overall, Flexclip is a great video converter that you can use.
4. Videoconverter
Videoconverter.com is one of the best places to use if you want to change the format of your video files. Videoconverter is great because you don't have to pay anything to use it. The only drawback of the online converter is that it can only convert files up to 100MB in size. Videoconverter can also change files you upload from your computer, Dropbox, or Google Drive. It supports a wide variety of video and music files.
5. Clipchamp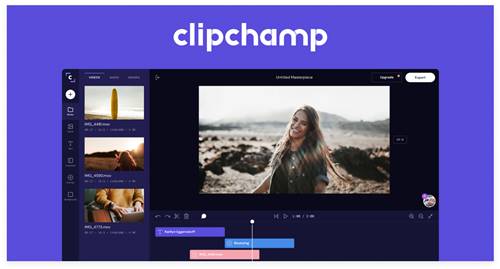 Clipchamp.com is a full-fledged online video maker that can help you make beautiful videos. There are free and paid plans. The free account has few tools; you can't use it to convert videos. But if you have a pro account, you can use all video editing tools, including the video converter.
6. Aconvert
Aconvert.com is an all-in-one video converter website where you can change the format of video files. Aconvert can convert videos, pictures, music, text, PDF, and other file types. If we're talking about video conversion, the site lets you convert up to 200MB. You can also convert your video to other files, such as MP4, MKV, VOB, SWF, and more.
7. Apowersoft Free Online Video Converter
Apowersoft Free Online Video Converter is an online video converter that needs installation. You must download and install the app the first time you use the site for endless conversion. Apowersoft converter has more conversion options than other online converters. Also, you can use it for free.
8. Cloudconvert
The best website on the list that can help you convert videos is cloudconvert.com. Cloudconvert's MP4 converter can turn any video format into an MP4 file. The site supports many video files, such as 3GP, AVI, MOV, MKV, VOB, etc.
9. Convertfiles
Try Convertfiles.com if you want a video converter that is easy to use. Convertfiles.com is clean and easy to use compared to other online video converters. Upload the video file, select the export format, and click the "Convert" button to use this website.
10. Zamzar
On the list, Zamzar.com is a free online file conversion option that can convert audio, papers, photos, videos, and other file types. If we talk about Zamzar's video converter, can convert MP4, WEBM, MKV, FLV, AVI, and many other file kinds.
Conclusion:
So, these are the best free video converters you can use online. This post was helpful! Please tell your friends about it too. Also, if you know of other sites like this, please tell us in the box below.