iOS 15 introduces a slew of new features, the most anticipated of which is 'Live Text.' It determines and distinguishes Text from photographs using deep learning and onboard AI. You may use this to extract information, email addresses, phone numbers, and other photographs from any photograph. However, users appear to be having issues while using Live Text. Some people cannot get it to work, while others need to include the feature entirely. If you're in the same situation, here are a few things you may do to fix iOS 15 Live Text not working on your device.
Is Live Text Supported On Your iPhone?
Live Text is a resource-intensive feature that needs a large amount of computing power to work effectively. If you're using an older device, chances are it won't work with the new Live Text feature. Well, only devices with Apple A12 Bionic processors or above are currently supported. This implies that only the devices listed below support iOS 15's new 'Live Text' feature.
iPhone XS Max

iPhone XS

iPhone XR 

iPhone 11 Pro

iPhone 11

iPhone 11 Max 

iPhone SE (2nd Gen) 

iPhone 12 Pro 

iPhone 12 mini 

iPhone 12

iPhone 12 Max 
Are You Using 'Live Text' Correctly?
Live Text can be difficult to master, and some users may have a learning curve while using it for the first time. Follow the steps below to ensure that Live Text works properly on your device.
Copy Text From A Picture
1 – Open Photos and browse to a photograph with Text.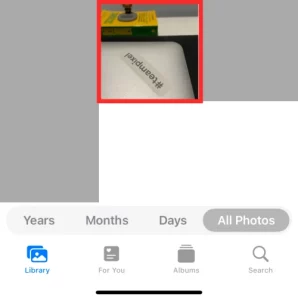 2 – Now, tap and hold the Text in the photograph. Hold until live Text appears, and you can select the Text. You'll see options to copy, choose, look up, translate, and share the Text on your screen from here.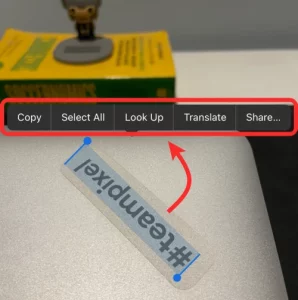 3 – If this doesn't work, try zooming into the Text (by double-tapping and/or pinching outwards on a picture) and then holding on to the Text you want to copy.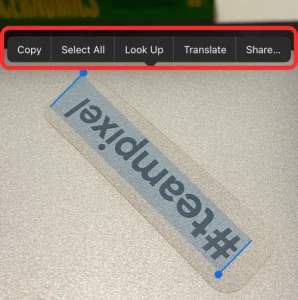 Copy Text From Camera
You can also point and shoot at something with text-rich content and copy it to your clipboard using the Camera app.
1 – Launch the iOS Camera app and point your phone's Camera toward a text-filled subject to use the Live Text feature.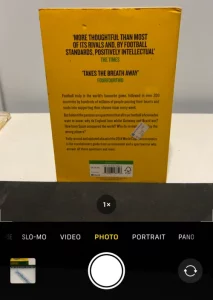 2 – When ready, select the Live Text button in the bottom right corner to copy the Text from the viewfinder (the one with a viewfinder icon and 3 parallel lines inside it). This Live Text button will be in the bottom left corner if you're holding the iPhone in Landscape mode.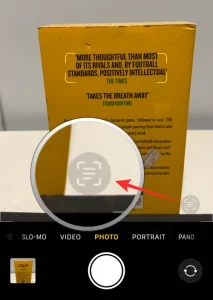 3 – The Live Text button will flash yellow, and the Camera app will begin searching for texts in your field of vision. When the Camera detects text components in your view, you will be given the option to copy, select, look up, translate, and share the Text.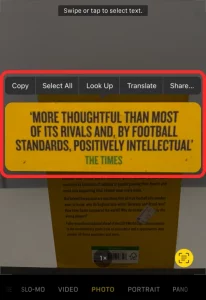 4 – If you don't see the Live Text button or its yellow-highlighted variant, try moving your Camera closer to the Text you wish to copy. Live Text may fail to detect Text in photographs due to various issues such as resolution, size, visibility, and blurriness.
How To Easily Fix iOS 15 Live Text Not Working Issue?
Well, if you tried using the Live Text feature described above but still can't use it, you may attempt the following fixes to get it to work on your iPhone.
Enable Live Text Inside Settings
If you don't view the Live Text option while viewing images in the Photos app, the feature hasn't yet been enabled on your iPhone.
1 – To enable Live Text, open the Settings app and navigate to General.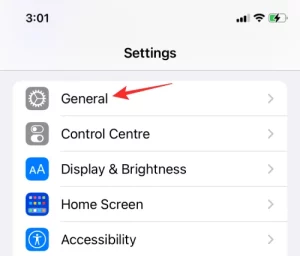 2 – Choose Language & Region from the General menu.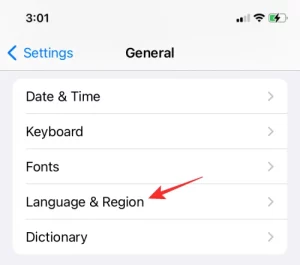 3 – On the following screen, toggle the Live Text toggle until it turns green.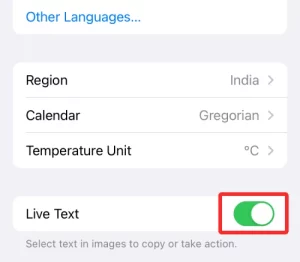 4 – Check the Photos app to see whether Live Text is working.
Turn On Show Detected Text For The Camera
Well, to use Live Text inside the Camera app, you must allow your iPhone's Camera to display scannable texts.
1 – Launch the Settings app and navigate to Camera.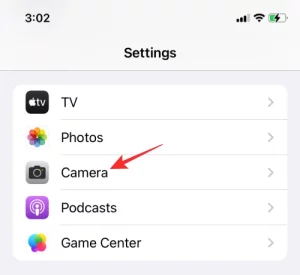 2 – Inside the Camera, switch the Show Detected Text turn on.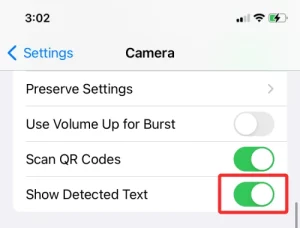 3 – Now, you should be able to use the Live Text option from your Camera's viewfinder.
Ensure Text To Be Scanned Is Clear
If the Live Text option does not appear or you have difficulty detecting Text in your viewfinder or image, you may zoom in on the text region to ensure it is visible for iOS. This is particularly important when scanning texts that are exceedingly tiny in size.
1 – In such circumstances, move your iPhone camera closer to the subject with Text incorporated or zoom into the image with Text inside the Photos app.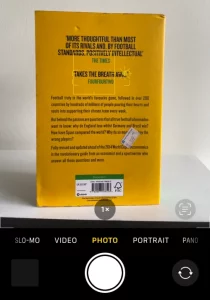 2 – If your subject contains many text pieces, such as a poster, book, or board, you must focus on the part you wish to scan by tapping on it.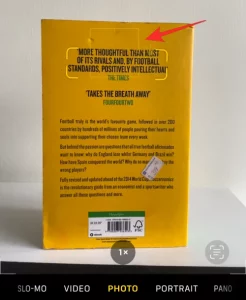 3 – When you focus on a certain text of Text, yellow-colored corner brackets will emerge around it. If that appears, tap on the Live Text button, which should appear in the bottom right corner of the viewfinder.
Change iPhone's Language To English Or Other Supported Options
The Live Text feature detects just seven languages at the time of writing: English, Spanish, Portuguese, French, Italian, German, and Chinese (simplified and traditional). Therefore, if you have changed your iPhone's default language to something other than the ones listed above, you may need to change it to one of the other supported languages. On the other hand, if Live Text is vital to you, you can change the language to English for the best results.
1 – To change the language on your iOS device, open the Settings app and select General.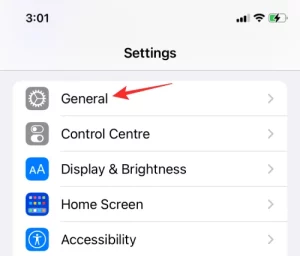 2 – Choose Language & Region from the General menu.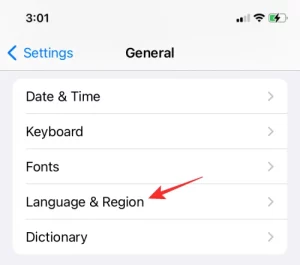 3 – On the following screen, tap iPhone Language.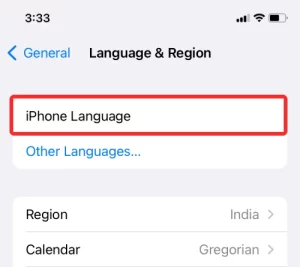 4 – Choose a language supported by Live Text from the list that appears.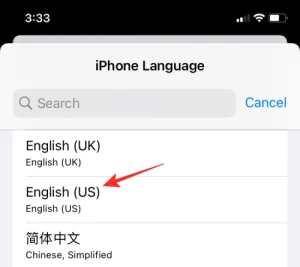 5 – You'll be prompted to confirm this by tapping on the Change to language> option in the bottom prompt.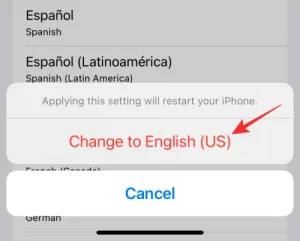 6 – Once completed, check whether Live Text is working within the Photos or Camera app.
Switch Region To The United States
The Live Text is a new iOS feature that works in tandem with Visual Look Up, which employs machine learning and artificial intelligence to scan things other than Text. During our testing, we discovered that Visual Look-Up worked for non-US residents if they set their iPhone's default region to the United States. Because Live Text works in tandem with Visual Look Up, you may also test switching regions to check if it works on your iPhone.
1 – Launch the Settings app on your device and navigate to General.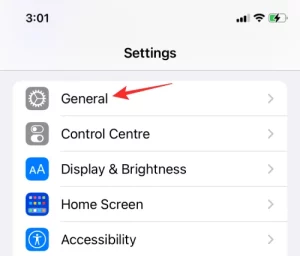 2 – Choose Language & Region from the General menu.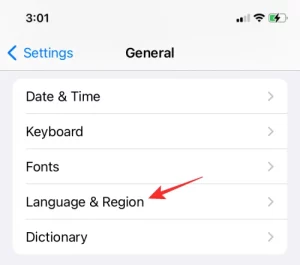 3 – On the following screen, tap Region.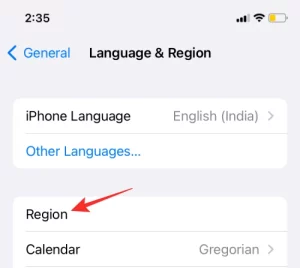 4 – Choose the United States from the list of regions that appears next.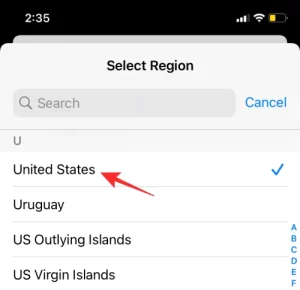 5 – Check the Photos or Camera apps to see whether the Live Text option is visible.
Reopen Apps
If none of the preceding methods worked, you could try forcibly quitting and restarting any apps preventing Live Text from working. But kill the app from the Recent Apps screen and then relaunch it from your App Library.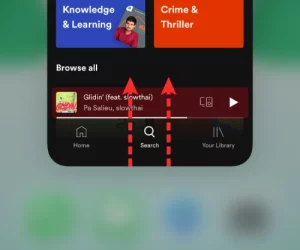 If Live Text appears to be working this time, you were most likely dealing with a minor issue or disagreement.
Restart Device
Restarting a mobile device resets the RAM, clears the cache, restarts background services, and re-establishes the internet connection. This procedure aids in the removal of any transient bugs and conflicts that may be causing problems with your device.
Press and hold your device's Side button until the turn-off slider appears. When it is finished, slide to the right to turn off your devices. Wait a minute, then press and hold the power button once again. This will restart your device and allow you to use Live Text again.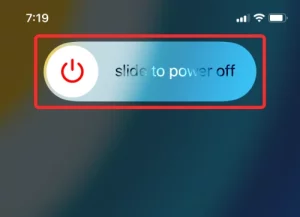 If the feature appears to work, you are set to go; otherwise, move to the additional fixes listed below.
Use Spotlight For Copying Text From Pictures
If you don't want to copy Text from pictures but instead want to search for pictures containing a certain text, you should know that Spotlight on iOS 15 allows you to do just that.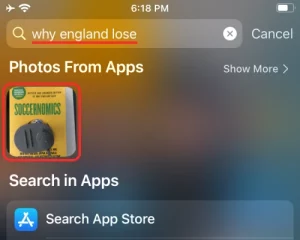 Apple's Live Text feature works with Spotlight enhancements to allow you to search for Text in photos from your camera roll and library. By launching Spotlight and searching for the Text, you wish to view pictures of, you may search for images with that Text.
Hard Restart The Device

A hard restart on iOS devices helps erase the sandbox and any app caches that may be kept on your device. This type of restart also causes certain background services to restart from scratch. Hard restarts can occasionally resolve iOS conflicts and restore functionality. Depending on your device's production date and model, use the guide below to restart it hard.
On The iPhone SE, 8, 7, 6, And Older 
Hold power and home buttons simultaneously until you see the Apple logo. When the logo appears, release the buttons immediately and allow your device to restart. If background conflicts cause your problem, restart your computer and use Live Text again.
On The iPhone X, XS, 11, 12 And 13 
Suppose your device lacks a home button, press and hold the power and volume down buttons simultaneously. Then, when you see the Apple logo, let go of the keys. Now, your device will hard restart, and any background conflicts that may have been causing Live Text issues should be resolved.
Reset Device
Try this last option if something else works better to fix Live Text. If you can still not get Live Text to work on your device, consider reinstalling iOS 15. Then, open the Settings app and choose General > Transfer or Reset iPhone > Erase All Content and Settings.
Conclusion: iOS 15 Live Text Not Working
We hope the methods above helped you fix iOS 15 Live Text not working on your iOS device. If you have any ideas for us, please leave them in the comments area below.