The TikTok is a social networking site where users may upload short videos, add music, and display their abilities, among other things. Social networking app is gaining popularity and expanding daily. You could be new to the site or need help trimming your video. In any case, we wrote this article specifically for you! TikTok features many editing tools and effects, making it simple to become disoriented on your quest for TikTok fame. This post will show you how to trim your TikTok video and provide additional advice.
While many users produce videos on the TikTok app to share with their admirers, its growing popularity is due partly to the ease with which you can share your works on other social networking apps. TikTok allows you to share your videos on Instagram, Twitter, WhatsApp, and Facebook with a button. However, many social networking apps only enable users to share short videos. In this case, you may choose to trim your video before uploading and sharing it on other apps. Fortunately, TikTok features an in-app trimmer that allows you to trim the videos you've just created. There are also third-party apps available to assist you with this. This tutorial will show you how to trim your TikTok videos quickly and easily.
Trim Video Using TikTok App
There are several methods for uploading a video to TikTok. For example, you may upload an already recorded video, Stitch or Duet someone else's video, or record your own. This implies that there are several ways to trim your video. This section will cover the many methods used to properly trim a video on TikTok.
Trim An Uploaded Video
It is simple to trim videos in TikTok using the built-in trimmer. The procedure is the same on both Android and iOS devices. Follow the steps outlined below:
1 – Press TikTok on your device and tap the '+' symbol at the bottom of the screen.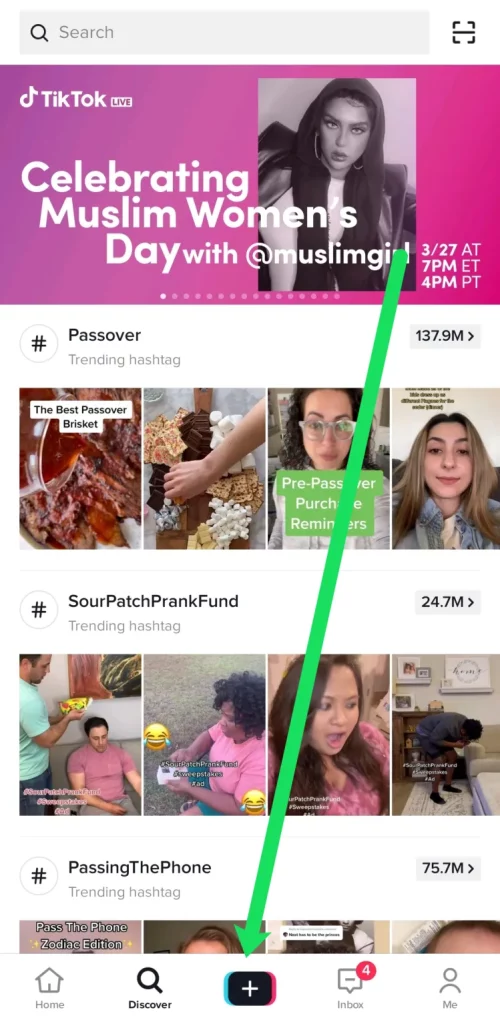 2 – To the right of the record button, click the 'Upload' option.
3 – Choose the video you wish to upload to TikTok and press the 'Next' button.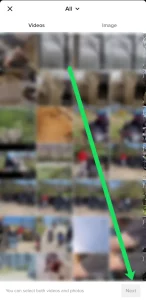 4 – Trim your video using the slider at the bottom of the screen.
After clicking 'Next' at the top of this screen, you may add more effects, text, music, and other elements. Then you may resume posting as normal.
Trim The TikTok Video You Recorded
You can still trim your video if you record it with TikTok's built-in camera feature. Follow the steps below:
1 – To record your video, tap the '+' icon at the bottom of the TikTok screen.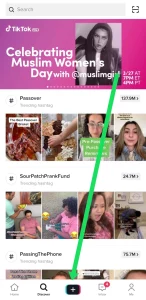 2 – Press the red record button to capture the content you wish to share, then click the checkmark symbol to go to the next page.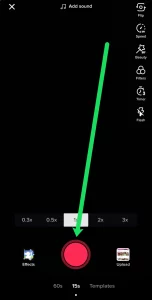 3 – On the right-hand side, tap the 'Adjust clips' option.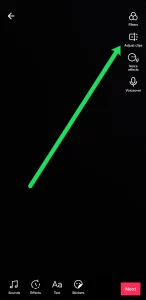 4 – Adjust your content using the red slider at the bottom.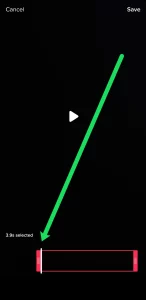 5 – When appropriately editing your video, click 'Save' in the top right-hand corner.
Luckily, TikTok is so user-friendly that it will instantly play the trimmed video for you to preview before proceeding. This lets you modify the video till it's exactly right.
How To Easily Trim A Stitched Video?
Creating a video is one of the most effective 'Reply' options accessible on any internet platform today. If you need to become acquainted with TikTok's stitch function, it's where you take a little piece of someone else's video and add your content. To do this correctly, you must trim the source video to fit your content inside the 60-second time constraint. But don't worry, it's rather straightforward! Follow these steps:
1 – Tap the video you want to stitch and click the share icon on the right.
2 – From the option that displays, choose 'Stitch.'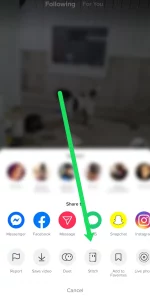 3 – Drag the slider bar to where you want to start recording your content. You may also trim the video's beginning. This lets you capture a clip in the middle or end of a video.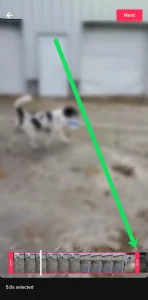 4 – After trimming the video, click 'Next' at the top to add your content.
You may use the 'Adjust clips' option described above to further trim your video before sharing it.
You're Capable Of Much More Than Trimming!
TikTok's allure stems from its limitless potential. In addition to trimming videos on the app, you may use the Mixer option to alter the relative sound levels between the sound you recorded and the sound clip you choose before generating the video. The Effects panel is next. Choosing this option will launch a library of effects and a timeline of the video you just recorded. The amazing thing about TikTok's Effects tab is that you may add effects solely to specific areas of the video. There are additional options to Set the cover for your video. It's a function similar to YouTube in that you may choose a certain frame for your video to select as the cover of your project. In addition, filters can be added to the entire video to change its look. Finally, TikTok's last option allows you to add Stickers to the video you've just created.
External Editors Are Useful Too!
If the TikTok app's built-in trimmer does not meet your needs, many external third-party apps are available to assist you. Nevertheless, keep in mind that only some of these editors are tailored to TikTok videos and, as a result, may not provide personalized edits like the app itself. To trim your TikTok videos, Android users can use any video editing app. Among the most popular (and free) of these apps are PowerDirector, BeeCut, YouCut, and Inshot, among others. If you use the TikTok app on iOS, we recommend trimming and editing your videos with iMovie, Apple's default video editing tool. Splice or the Filmmaker Pro Video Editor is more options. All of these apps are simple to use and require no prior expertise. We recommend trimming your videos with TikTok's built-in editor. However, if you frequently need to edit videos not created on TikTok, we recommend using one of the external apps listed in this article.
FAQs:
Is It Possible To Trim A Video After Posting?
Sadly, TikTok only provides a few editing options once we've released the video. Well, you can save the existing video to your phone and upload it using the method described above.
How To Easily Trim The Length Of Photos In My Video?
If you want to incorporate photos in your video, TikTok provides a few templates and the option to match the photos to music. However, if you want to trim the photos manually, you must apply the Green Screen filter. You may upload your photographs one by one using the Green Screen filter. Then, press the record button for each one, pausing at any time. This method is the simplest way to trim and alter videos using images.
Conclusion:
So, what are you holding out for? Make videos using the TikTok app and share them with the rest of the world! Please leave a remark in the section below if you still need help figuring out how to trim the video precisely how you want it. We'll go through them all and assist you as best we can.